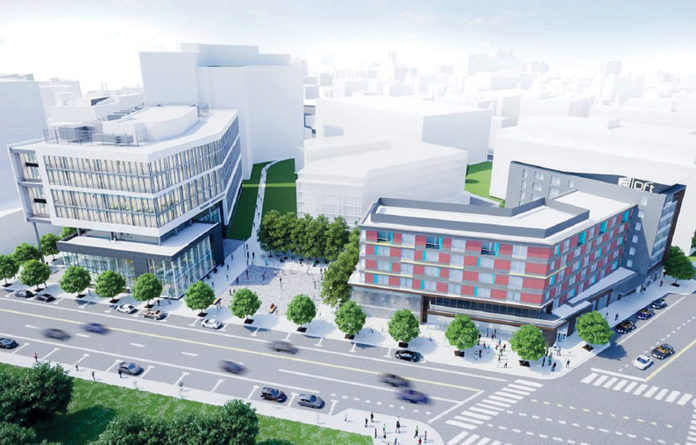 PROVIDENCE — The I-195 Redevelopment Commission gave final approval Monday to the design of the first phase for the long awaited Wexford Science & Technology LLC center in downtown Providence, a plan that will include a hotel, an office and innovation center building and outdoor courtyard.
The $105 million first phase of the development is expected to include space for Brown University, the Cambridge Innovation Center and other office tenants in the 191,000-square-foot innovation building. This building will include a 5,500-square-foot District Hall, modeled after one in Boston in its Seaport innovation district.
According to the plans, an adjoining 170-room hotel would be run by the Aloft brand and include a restaurant at street level. Between the two structures is an outdoor courtyard, to be landscaped with shade trees and outdoor seating.
The parcels will occupy a portion of parcels 22 and 25 in the Interstate 195 Redevelopment District, fronting Dyer Street.
According to Peter McNally, executive director of the I-195 commission, the Wexford project is expected to have a groundbreaking within the next several months, with the goal of a third quarter closing on the properties.
An adjoining property, at One Ship St., previously purchased by Wexford, has been occupied by Johnson & Johnson. The company has hired 20 to 30 employees who are working at the site, according to McNally.
The development plan for Phase I of the Wexford site has already received design approval from Providence, which retains the right to approve all architectural plans for buildings in the planned innovation district.
The city's planning director, Bonnie Nickerson, said city officials were pleased with the architectural plans and the statement the two buildings will make on what is a premier site downtown.
"The design itself is very, very well-done," she said. "The city feels very good about the way the design is presented."
In a brief public comment session that preceded the commission's unanimous vote to approve the design, several residents of the downtown Jewelry District said they generally were happy with the architecture of the buildings and plaza.
Some commenters suggested that the city and I-195 commission reposition the planned cross-city pedestrian pathway City Walk to run through the buildings and Wexford campus, rather than alongside the buildings, further to the south.
Mary MacDonald is a PBN staff writer.