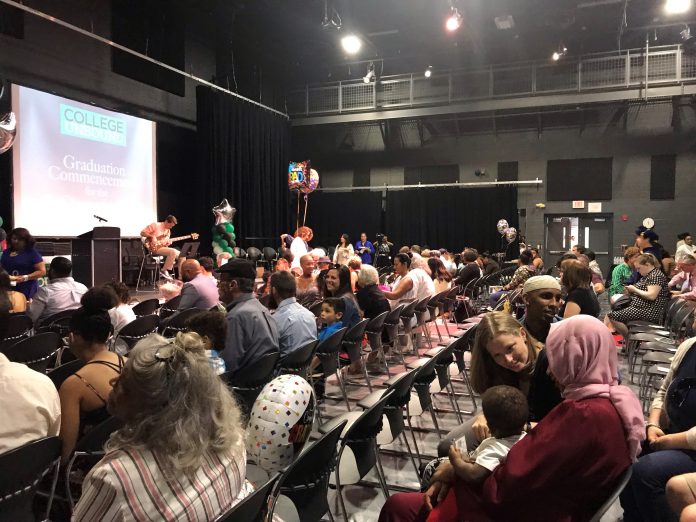 PROVIDENCE – Twenty students have been awarded bachelor's degrees at College Unbound, a postsecondary school that offers classes to nontraditional students who began their studies elsewhere and were interrupted.
The June 1 graduation ceremony – the eighth for College Unbound – took place in the Met School Black Box Theatre and the graduates ranged in age from early 20s to 60.
"For most of you, your long path has not been a straight one," Pat Kidder, College Unbound's board of trustees chairwoman, told the graduates. "There have been many challenges, obstacles and sacrifices. You made it. You did it. You earned your college degree."
The graduates include: Joyce Toni Aboutaan, Belita Ribeiro, Vanessa Mercedes Vigil, Christopher W. Suchmann, Zulimar Vidal, Mayra Elizabeth Gonzalez, William H. Shavers III, Charlene Latonya Howie, Cynthia Marie Sepulveda, Abdourahim Akimana, Michelle Anne Pinto-Miceli, Cheryl A. Isom, Rosa Taina Rosario, Kofi Baffour Mireku, Noelle Spinola, Natalia Almeida-Cardoso, Luz Melissa Gonzalez, Lisa Arundale Furtado, Anjel Newman, and Lilybeth A. Torres.
Ribeiro, Rahim and Aboutaan also received the 2019 William C. Clifton Fighting for Justice Award for their community work. The award was named for the late R.I. Superior Court justice and community activist, and husband of College Unbound board member U.S. District Court Judge O. Rogeriee Thompson.
College Unbound, founded in 2009 by Dennis Littky and Adam Bush, is a nontraditional degree-granting school aimed at helping adult learners return to college and complete their degrees.
The school is pursuing regional accreditation with the New England Association of Schools and Colleges.