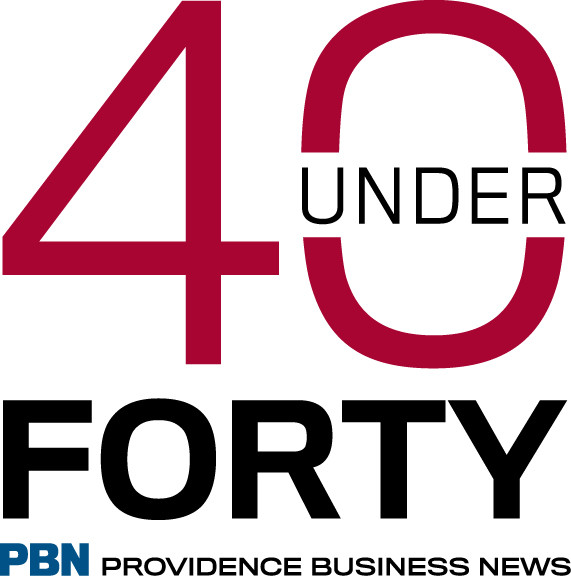 PROVIDENCE – Providence Business News has chosen the winners for its 12th 40 Under Forty program, to be honored Thursday, July 21, at Aldrich Mansion in Warwick.
The women and men to be recognized in the 2016 edition of the competition were chosen from among 150 applicants, and they will be profiled in an upcoming special section of PBN.
The 40 Under Forty winners were selected based on career success and community involvement. All are young professionals who have committed to making a difference on a local, national or international scale.
The 2016 40 Under Forty honorees (listed alphabetically), along with their employer/business:
Katje N. Afonseca, Big Brothers Big Sisters of the Ocean State
Jeffrey A. Agonia, Hope Global
Hilina D. Ajakaiye, Stop and Shop Supermarket Co. LLC
Anthony E. Autiello III, A. Autiello Construction Co. Inc.
Mike Backus, Blount Fine Foods
David J. Burnett, Neighborhood Health Plan of Rhode Island
Constantinos H. Dafoulas, International Game Technology PLC
Bradford S. Dean , Dean Warehouse Services Inc.
Lisa Marie DeCoste, Performance Physical Therapy
Dr. Julio Cesar Defillo-Draiby, University Medicine Foundation Inc.
Jillian J. DeShiro, Centreville Bank
Jennifer M. Etue, Family Service of Rhode Island Inc.
Casey Ferrara, Meeting Street
Nelson M. Ferreira, TRAC Builders Inc.
Andrea Galgay, Rhode Island Primary Care Physicians Corp.
Meghan Grady, YWCA Rhode Island
Adam Greenman, United Way of Rhode Island
Elisabeth Harrison, Rhode Island Public Radio
Jennifer P. Hogencamp, BlumShapiro
Shawna Hassett Iannuccilli, Duffy & Shanley
Dr. Jeffrey S. Kenyon, Blackstone Valley Eye Care
Tulay Lawton, The Savory Grape Wine Shop
Dr. John Z. Luo, Doctor's Choice
Brandon D.L. Marshall, Brown University School of Public Health
Eric Mounsey, M. Weisman Roofing Co. Inc.
Carrie L. Ortner, A.T. Cross Co.
Sandy F. Ross, Kahn, Litwin, Renza & Co. Ltd.
Ashley Sadlier, Rhode Island Skilled Pediatrics and Adult Nursing Office in BAYADA Home Health Care
Justin Savage, EveryBill LLC
Toby Shepherd, Rhode Island Foundation
Sergio E. Sousa, Twin River Casino
Thomas Stehl, Edesia
Matthew Vangieri, Mystic Aquarium
Laura Walmsley, Preventure
Danielle M. Ward, U.S. Trust (a division of Bank of America Corp.)
Tammy Vargas Warner, University of Rhode Island
Matthew R. Wischnowsky, Gallo|Thomas Insurance Agency Inc.
Daniel Xavier, Blue Cross & Blue Shield of Rhode Island
Kyle Zambarano, Adler Pollock & Sheehan P.C.
Eric N. Zuena, ZDSinc
The July 21 celebration of the 2016 class of 40 Under Forty will take place from 5:30-8 p.m. at Aldrich Mansion in Warwick. To register for the event and buy tickets, go to the PBN Events page.