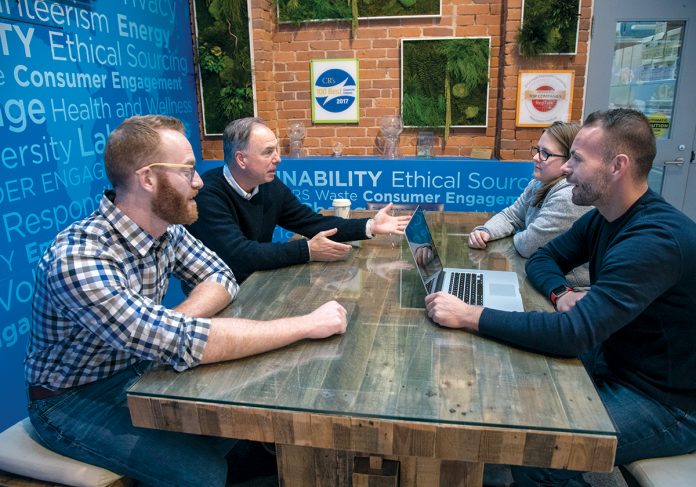 Four Rhode Island-based corporations were listed in the Human Rights Campaign Foundation's 2018 Corporate Equality Index – a study that measures a corporation's efforts toward inclusion of lesbian, gay, bisexual, transgender and queer individuals in corporate working ­environments.
Blue Cross & Blue Shield of Rhode Island, CVS Health Corp. and Hasbro Inc. – as well as a record-breaking 606 additional corporations from across the United States – achieved perfect scores in the 2018 study.
"Inclusion is not just about persons of color, it also includes [LGBTQ] individuals," said Hasbro's Dolph Johnson, executive vice president and chief human resources officer. He added that corporations should not be "afraid of the issue. This is a … growing subset of the population."
A fourth Ocean State firm, Textron Inc., scored 55 out of a possible 100 in the latest study – its third consecutive year at that measure. After repeated requests, Textron declined to comment for this story.
From 2015 to 2017, both BCBSRI and CVS have sustained perfect 100 scores. In that time, Hasbro has climbed in the rankings from 75 in 2015 to 90 in 2016 and 100 in 2017.
Published most recently in November 2017, the Corporate Equality Index measures the LGBTQ inclusivity of U.S. businesses with 500 or more full-time employees based on four points: nondiscrimination policies across business entities, equitable benefits for LGBTQ workers and their families, internal education and accountability metrics to promote LGBTQ inclusion competency, and public commitment to LGBTQ equality.
The 2018 study marks the 16th edition of the Corporate Equality Index; the first, in 2002, featured 13 corporations with perfect scores out of the 319 ranked.
Johnson said Hasbro views the annual study as an opportunity to "assess our current policies" and while the firm values the outline set by Human Rights Campaign Foundation, he said the study is "important but not the be-all and end-all" factor determining Hasbro updates.
For example, in January 2017, after reviewing both the qualifications for the latest Corporate Equality Index and evaluating what was best for the company, Johnson said Hasbro expanded its medical benefits to include gender-reassignment surgery.
"That was a cost to us," he said, "but it was minimal because it's such a small population."
Employee trainings, a respect for all walks of life, expanded health care benefits and an "inclusive culture," said Johnson, have led Hasbro to another perfect score in 2018.
In an emailed statement, Lisa Bisaccia, CVS executive vice president and chief human resources officer, said the firm's fourth consecutive perfect score "reflects our commitment to fostering a diverse and inclusive workplace, one that values our colleagues and supports our LGBTQ and ally community."
'Inclusion is not just about persons of color, it also includes [LGBTQ] individuals.'
DOLPH JOHNSON, Hasbro Inc. EVP and chief human resources officer
She cited the distribution of gender-transition guidelines among workers when a person chooses to transition, partnering with the Human Rights Campaign to develop guidelines to best serve transitioning patients at CVS pharmacies and the inclusion of LGBTQ vendors and suppliers as major tenants leading to the firm's continued top performance in the study.
Sarah O'Neil, Blue Cross' director of learning and inclusion, said the health care company was "very happy and extremely proud" to continue its perfect score streak. She said it also feels "proud" to be listed in "good company" among the other Rhode Island-based firms to have received perfect scores.
A nondiscrimination policy and respect for employees no matter their "gender, sexual orientation, [gender confirmation] and gender expression" is what continues to fuel an LGBTQ-positive atmosphere at Blue Cross, said O'Neil.
The report stated businesses with top scores know "creating inclusive workplaces and communities where their employees can thrive is an investment in their own competitive edge. That's why LGBTQ-inclusive workplace policies are becoming the norm in the U.S. and having an impact around the globe."
New England residents, and Rhode Islanders in particular, may consider themselves "progressive" when it comes to LGBTQ inclusion and policies, said O'Neil. Citing multiple states in which LGBTQ individuals can be terminated because of their sexual orientation and gender expression, she said that's not the case everywhere.
For a company to succeed, said Johnson, it must "provide an environment and culture to allow talent to come from every walk of life" and, while many companies "espouse" such an atmosphere, "impediments" still exist, blocking full inclusion for LGBTQ workers at corporations across the country.
O'Neil said Blue Cross has seen success with a diversity inclusion component in its executive performance appraisal and, similar to Hasbro, by offering health care benefits to same-sex partners as well as covering gender-confirming surgery.
Johnson suggested companies with lower Corporate Equality Index scores take a more proactive approach. "Call it out, talk about it and be aware of it," he said, "don't try to put it underground; this is part of the new norm."
[bypass_buynow]