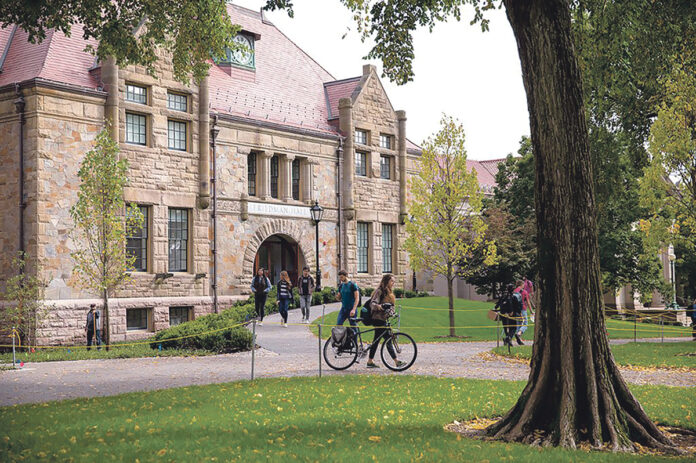 PROVIDENCE – Researchers at Brown University and Boston-based Hebrew SeniorLife, a Harvard Medical School affiliate, have received a $53.4 million grant to gather and test ideas aimed at improving health care and quality of life for people diagnosed with Alzheimer's disease and related dementia.
A nationwide incubator created by the two institutions will develop trial programs based on concepts submitted by researchers and institutions across the country.
"This grant will revolutionize the national infrastructure for research into how care is delivered to people living with dementia and their caregivers," said Vincent Mor, co-leader of the collaboration and a professor of health services, policy and practice at Brown's School of Public Health. "The key is figuring out how to take an idea that worked in an ideal situation and adapt it so it can be piloted in the messy real-world system of care providers that exists across the U.S."
The five-year National Institute on Aging grant, announced Tuesday, is the largest federal award in Brown's history.
Solicitation for submissions begins Tuesday as well, Mor said.
He expects to receive ideas from across the country, and although the incubator in its earliest stages, hopes it will see enough success to warrant enough funding for an additional five or more years.
The National Institute on Aging Embedded Pragmatic Alzheimer's Disease/Alzheimer's Disease Related Dementia Clinical Trials Collaboratory includes eight working groups made up of experts from more than 30 research institutions.
The group expects to fund and support up to 40 year-long trials to test non-drug, care-based interventions for people diagnosed with dementia, and educate the research community on how best to implement and evaluate interventions for Alzheimer's and dementia care.
Pilot programs will be used in existing health care systems, from which researchers hope to gather enough data to support larger, definitive trials.
Mor and other project leaders are also hoping to receive proposals from health care professionals who work directly with Alzheimer's and dementia patients along with submissions from researchers.
"The NIA IMPACT Collaboratory will transform the delivery, quality and outcomes of care provided to Americans with dementia and their caregivers by accelerating the testing and adoption of evidence-based interventions within health care systems," Dr. Susan Mitchell, co-leader of the collaboration, senior scientist at Hebrew SeniorLife's Hinda and Arthur Marcus Institute for Aging Research and professor of medicine at Harvard Medical School.
Elizabeth Graham is a PBN staff writer. Email her at Graham@PBN.com.

Want to share this story? Click Here to purchase a link that allows anyone to read it on any device whether or not they are a subscriber.