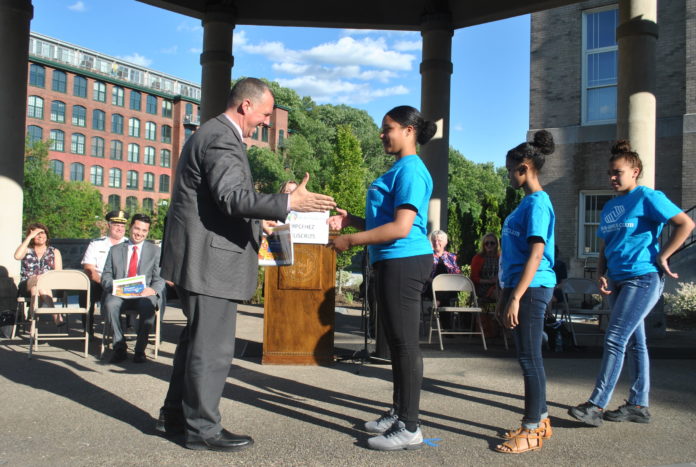 PROVIDENCE – More than 100 Rhode Island residents, including Dr. Nicole Alexander-Scott, director of the Rhode Island Department of Health, First Gentleman Andy Moffitt, Central Falls Mayor James Diossa and Pawtucket Mayor Donald Grebien, celebrated the launch of Pawtucket Central Falls Health Equity Zone's Building Healthy Neighborhoods Action Plan at a press event at Veterans Memorial Garden Amphitheater in Pawtucket on the evening of June 14.
"This action plan is not going to collect dust on a shelf; it's full of action that has champions committed to making sure these actions happen … and happen successfully," Carrie Zaslow, program officer at Local Initiatives Support Corporation Rhode Island and manager of the Pawtucket Central Falls HEZ project, told PBN in a phone interview. This is one of 10 HEZs across the state, with multiyear funding – primarily from the Centers for Disease Control – that supports an "uber-local" approach to improving residents' access to healthy food, housing and employment opportunities and health care.
To that end, the Pawtucket Central Falls HEZ "approached this from the bottom up. We spent quality time making sure that this came from the residents of both cities," said Zaslow. "We listened to what their needs were and worked with them to develop the action plan."
The median household incomes for Pawtucket and Central Falls residents is below the Rhode Island average median income, according to LISC Rhode Island, the lead agency for this HEZ initiative. With poverty rates in these communities nearly twice the state average, it's no surprise that many residents lack access to many of the social determinants that can improve one's health – access to healthy and nutritious food, responsive and prophylactic health care, venues for exercise, etc. Programs offered by the Pawtucket Central Falls HEZ are open to all residents of Pawtucket and Central Falls.
Among the small community groups that sought and received both a small grant and technical assistance was a group called Mujeres Positivas, Spanish for "positive women." This support group by and for Latinas with cancer hopes to expand to become a nonprofit organization to offer culturally appropriate cancer support services for Latinas with cancer diagnoses and those who are cancer survivors. The HEZ, said Zaslow, is working with Progreso Latino to help the members of Mujeres Positivas with organizational issues of funding, policy and procedure development and board development. HEZ provided a $2,500 grant to the organization, which may apply for more funding in the second year of HEZ funding, which just began in April 2016.
Another initiative, the Blackstone Valley Community Kitchen, will offer a sustainable foods job training program and a micro-business incubator in a community kitchen that HEZ anticipates being built. With a need to keep these hands-on classes small, Zaslow predicts that 20 people this year will complete the sustainable foods job training program – and be ready for work in a commercial kitchen setting – and another 10 individuals will complete micro-business incubator training this year, though she anticipates growing enrollment in both cases. Somewhat akin to Hope + Main in Warren, the community kitchen will have micro-business company owners pay a monthly fee to use the facility to prepare and sell their foods. "We would ask members to work with us and our other partners to create healthy food from their cultures that adhere to Rhode Island Department of Health guidelines for healthy eating, create recipes that can be disseminated and do cooking classes so people can prepare their favorite foods in a healthy way," said Zaslow.
The HEZ work in Pawtucket and Central Falls is a four-year initiative funded by DOH and the Centers for Disease Control and Prevention. In addition to LISC, other members of the collaborative include Memorial Hospital and Blackstone Valley Community Health Center, as well as organizations representing education, law enforcement and city and state government. In the first year of funding, this HEZ received $298,000 and this year, $350,000. As reported in an earlier PBN story, the CDC, through the DOH, awarded $5.5 million for the first two years of the grant. Those funds, which include $200,000 in DOH funds, were distributed to HEZs across the state.
Across the state, the West Warwick HEZ and Westbay Community Action's WIC Program announced they are hosting five farmers markets in West Warwick. They will be held in the parking lot of the West Warwick Senior Center, 145 Washington St., West Warwick, RI from 11 a.m.-1 p.m. on July 20, Aug. 17, Sept. 9 and Oct. 19. There will also be a market hosted by the West Warwick Public Library, at 1043 Main St., West Warwick on Aug. 2. These markets accept WIC, SNAP and senior voucher; shoppers can also receive $2 extra for every $5 they spend using their WIC and SNAP benefits.
Yet another Pawtucket Central Falls HEZ initiative is cross-training peer counselors who already work with individuals on housing, benefits and other issues to be able to help individuals with health issues, said Zaslow. With a goal of "helping people where we meet them," these cross-trained peer counselors can advise and support individuals with pre-diabetes and diabetes to eat more healthfully, exercise and adopt new habits.
"Today, LISC, in partnership with the Pawtucket Central Falls HEZ collaborative, marks the launch of the Building Healthy Neighborhoods Action Plan," Jeanne Cola, executive director of LISC Rhode Island, said in a LISC Rhode Island release. "It is the beginning of targeted efforts to remove health barriers and promote health equity."
While some health outcomes take decades to measure, we believe we have the ability to measure people's behavior, said Zaslow. We can start to evaluate: Are people eating foods that they understand are healthy? Have they stopped smoking? Are they exercising on a regular basis? We can evaluate the metrics from a geographic area and develop programs that will see these types of improvements, she said. With overflow crowds at last year's working group meetings, out of which the action plan was developed, Zaslow is optimistic that this type of sustained community engagement will translate to changed behaviors for the better.