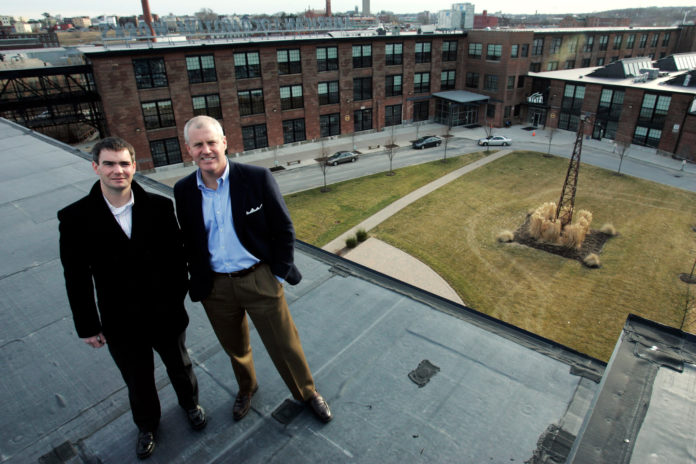 (Updated, 2:30 p.m.)
PROVIDENCE – The owners of the Foundry complex in Providence have purchased the neighboring American Locomotive Works property off of Valley Street, they announced Thursday.
Foundry Associates L.P. said it acquired the five-building, 11.8-acre complex for $19.05 million in a news release.
Foundry Associates Partner Tony Thomas said the seller was American Locomotive HH LLC, and he did not know who the principals of that group are.
Thomas said Foundry's only immediate plans for the property are to work on landscaping bordering the new Waterfire headquarters and to find tenants for the remaining 60,000 square feet of commercial space.
The brick former locomotive factory buildings date to 1901 and were redeveloped as part of an unfinished $333 million mixed-use project launched by Struever Bros. Eccles & Rouse in 2006. Stuever Bros. filed for bankruptcy protection before it could complete the project, which was to include apartments, a hotel, offices and a riverwalk along the Woonasquatucket River.
The 200,000 square feet of commercial space that was redeveloped is now 70 percent leased, according to Foundry. Tenants include United Natural Foods Inc., the R.I. Economic Development Corporation, Fuss & O'Neil Inc., New Horizons Learning Centers and the Guatemalan Consulate.
Foundry Associates has redeveloped nearly 1 million square feet in the Promenade neighborhood including the former Brown & Sharpe mill.
Thomas said improvements in the neighborhood and especially along the Woonasquatucket River encouraged Foundry to buy ALCO.
"The river keeps getting nicer and nicer and that is a reason we pursued this aggressively because we have been impressed by what is happening," Thomas said. "People are living and working there. It has been really quite a renaissance."
The ALCO acquisition was financed by The Washington Trust Company and Rockland Savings Bank.
CBRE New England is the leasing agent for the property.
Peregrine Property Management will continue to manage the complex, Thomas said.