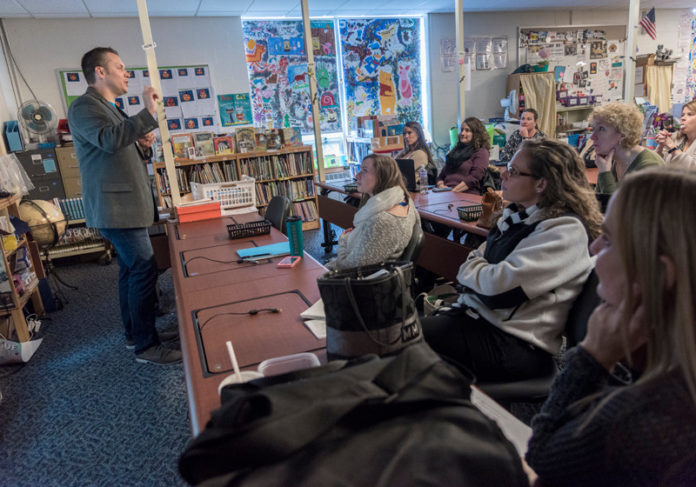 Five years ago, Pleasant View Elementary School in Providence ranked as one of the lowest-performing schools in the state. Only 17 percent of the school's third-grade students were considered proficient in math.
But visit Pleasant View today and you'll experience a totally different school. In 2014, Pleasant View saw the most statistically significant growth in standardized test scores in Providence: second-highest in the state.
Some of the credit for this transformation goes to Highlander Institute, an education nonprofit in Providence. The organization worked with Pleasant View staff and administrators to draft and secure a R.I. Department of Education "Innovation Powered by Technology" grant. Highlander then trained teachers in blended learning – integrating data and technology such as laptops, and educational software into the classroom – to improve students' learning and performance.
"The reality is that learning has to look different in this rapidly changing and complex world," said Dana Borrelli-Murray, the organization's executive director. "We think that by personalizing learning using this blended kind of model, we will be able to do that."
This innovative approach has helped Highlander Institute morph from a tiny nonprofit into a nationally recognized leader in education. The organization grew from five employees to 20 between 2012 and 2016, while funding quadrupled during that time period. It now works in 50 schools, including those in Rhode Island, other New England states, and even as far as Oklahoma and Nebraska.
"By embedding its experts in our classrooms, Highlander provides invaluable coaching to our teachers and school leaders," said Superintendent of Providence Schools Christopher Maher. "Over the past five years, their involvement has grown from a presence in one school to on-site supports in nearly half of the district's schools."
In addition to using technology, part of the blended-learning model Highlander works to implement involves reshaping the classroom itself. Walk into a classroom receiving Highlander's coaching and you might see groups of students clustered at different learning stations they can rotate through, with more one-on-one and small-group interaction with the teacher.
There's also a social justice component. Highlander aims to spread this learning model to resource-strapped schools most in need of innovation.
"We're trying to create better systems for all kids, not just schools that can afford technology," said Borrelli-Murray. "This is the way we're going to reshape learning."
In addition to providing contract support in school districts, Highlander Institute offers FuseRI, a two-year fellowship program for Rhode Island teachers to receive free training.
The organization's EdTechRI program brings together educational technology companies and teachers for monthly meetups. The tech developers pose questions or highlight problems they're having with particular products, and teachers provide feedback. And the EduvateRI initiative, meanwhile, works with researchers, companies, schools, nonprofits and community partners to turn Rhode Island into an education innovation cluster, the same way many people see Silicon Valley as a hub for technology innovation.
Highlander also hosts an annual blended-learning conference, which has followed a similar growth trajectory as the institute itself, becoming a nationally recognized event.
"When we started, it was 50 people at a cafeteria in a school," said Borrelli-Murray. "Last year, we sold out with 900 people at the R.I. Convention Center."
Next year's conference will take place March 31 and April 1. Borrelli-Murray said Highlander is expecting educational leaders from all over the country. •