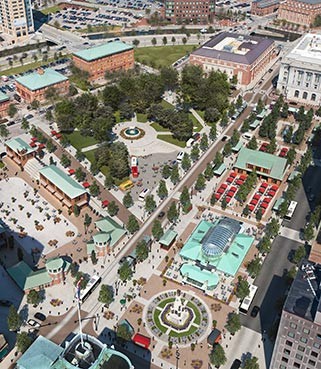 PROVIDENCE – Providence Mayor Angel Taveras, the Downtown Providence Parks Conservancy and Southwest Airlines Thursday opened the new Imagination Center in Burnside Park, the mayor's office announced.
The Imagination Center is a new local destination for kids' and family activities, including arts and crafts, a farmer's market and live music. It is surrounded by picnic tables, beanbags and a wooden deck, according to a news release.
Thursday's kickoff event featured story time, bookmaking for kids and local food trucks.
"The opening of the Imagination Center advances our efforts to revitalize Kennedy Plaza and make downtown Providence a more vibrant cultural and commercial gateway to our Capital City," said Mayor Angel Taveras. "Working together and in partnership with Southwest Airlines, we are improving our downtown public spaces and providing more opportunities to play, recreate, dine and enjoy spending time in Kennedy Plaza."
The revitalization of Kennedy Plaza is one of the top five goals of Mayor Taveras' economic development action plan, "Putting Providence Back to Work," according to a release.
The Imagination Center is part of the Downtown Providence Parks Conservancy's Greater Kennedy Plaza Project, which aims to turn the central square from a transportation hub into a broader cultural center for Providence. The plan includes making the area more inviting to pedestrians by creating a central green with trees and park benches and encouraging RIPTA bus ridership while reducing the number of buses that pass through the plaza itself.
"We will change the way people think about the plaza by transforming it into a beautiful, usable space cherished by Rhode Islanders and visitors from near and far," the Parks Conservancy says on its website.
The plan identifies nine main areas of the greater plaza that "will see new life injected into their grounds," including Burnside Park, the Biltmore Plaza and the Skating Center.