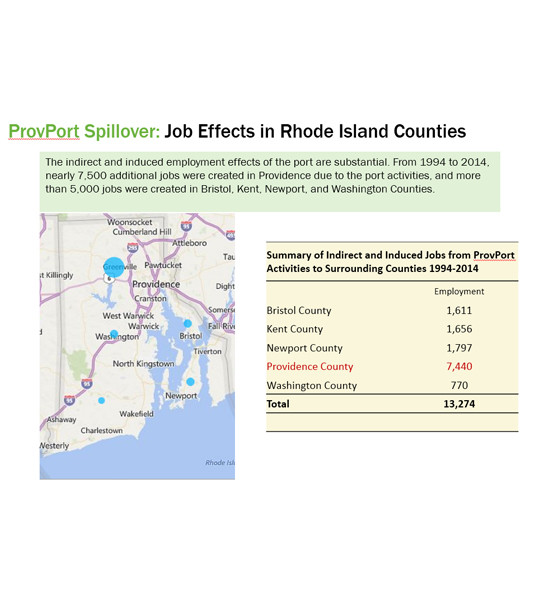 (Updated 11:57 a.m.) PROVIDENCE – ProvPort has released an economic impact study detailing economic and job creation benefits the port has generated since 1994, including nearly 1,200 jobs in the city of Providence and 1,700 jobs within the state of Rhode Island.
The study was released in conjunction with ProvPort's 20th anniversary.
In 1994, ProvPort purchased the port, at the convergence of Narragansett Bay and the Providence River, from the city of Providence for $16.5 million. The port is the second busiest in New England, only trailing Boston. Cargo exceeded 3.1 million tons in 2008.
"ProvPort has been a tremendous success for both the city of Providence and the state of Rhode Island, and we are excited about the potential for growth," Paul Moura, chairman of ProvPort's board of directors, said in a statement. "The port of Providence is run efficiently and the board has worked to incentivize and encourage growth. The result has produced a highly successful public private partnership that has become an integral economic generator for our economy."
The study, conducted by 4Ward Planning, found that terminal services since 1994 have resulted in economic output (the total value of all goods and services produced) of approximately $164 million for the city and $211 million for the state. The indirect impact of the port has generated approximately $2.8 billion in economic output for the state since 1994, with $1 billion of that occurring within the city.
"Providence's industrial port is an economic engine for our city, state and region," Mayor Jorge O. Elorza said. "With renewed investment and attention, we can leverage our port's deep-water channel and other valuable assets to increase Providence's imports and exports and create new, good-paying waterfront jobs for our residents."
Since 1994, ProvPort has made $24.7 million in capital improvements at the port. It also has contributed $480,000 to the neighborhood improvement fund during the last 20 years, and ProvPort tenants have made another $38.9 million in capital improvements at the port in that time. ProvPort said another $33 million to $55 million in capital expenses are planned between now and 2020.
ProvPort tenants include Eukor Auto Carriers, Univar Terminal, Enterprise Products and Terminals, Lehigh Terminal, Schnitzer Northeast, Washington Mills, NE Petroleum and Morton Salt. The tenants are responsible for more than 5,000 part- or full-time jobs at the port, directly or through supporting operations such as trucking.
According to information from ProvPort, seven of ProvPort's eight tenants expect to expand in the next six years, which will result in the hiring of another 100 employees.
Other study highlights:
ProvPort payments to the city have totaled $35.95 million as a result of the original purchase since 1994. ProvPort also has generated an estimated $6.7 million in tax revenue to the city since 1994. The average annual tax treaty payment to the city is $300,000. During that same period, ProvPort has contributed $10.9 million in tax revenue to Rhode Island.
In addition to more than 5,000 part- or full-time employees generated by port operations, ProvPort is responsible for 7,440 indirect jobs within the city and 13,200 within the state. From terminal services activities alone, ProvPort has created 1,200 jobs within the city of Providence and 1,700 jobs within Rhode Island since 1994.
Between 2014 and 2020, ProvPort is anticipating to directly contribute more than 5,500 jobs and more than $2.3 billion in economic output within Providence.