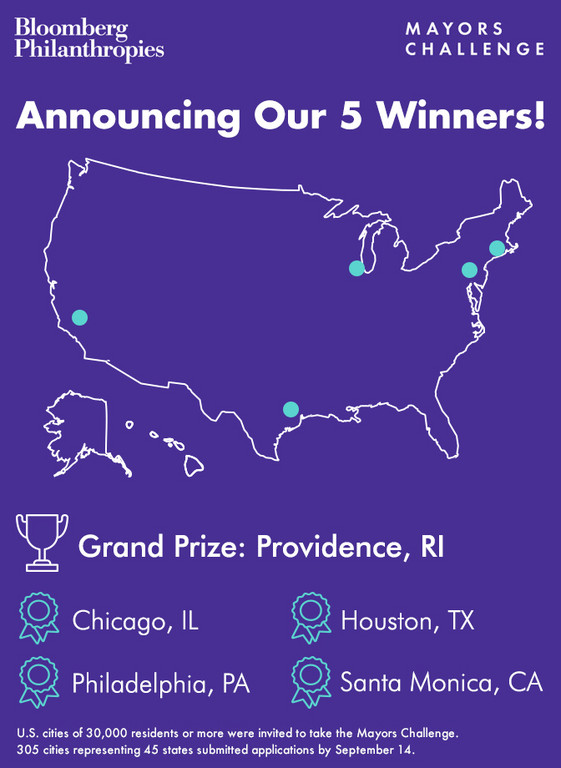 NEW YORK – Providence was named the grand prize winner of the inaugural Bloomberg Philanthropies' Mayors Challenge, a competition designed to inspire American cities to generate innovative ideas that solve major challenges and improve city life, the nonprofit announced Wednesday.
Providence was selected to receive the $5 million grand prize from more than 300 cities. Mayors Challenge innovation prizes of $1 million each were also awarded to Chicago, Houston, Philadelphia and Santa Monica, Calif.
Rhode Island's capital city earned the top prize for Providence Talks, an initiative to boost education for low-income children by increasing the number of words they hear by their fourth birthday. Under the city initiative, the state's home visitation services would equip families in Providence with the technology and coaching necessary to measure the child's household auditory environment and intervene to close vocabulary deficits in real time.
In its announcement of the winners, Bloomberg Philanthropies said Providence Talks was selected for its "direct, simple and revolutionary approach to early childhood education."
"The Mayors Challenge is dedicated to the idea that cities are the new laboratories of democracy. If an innovative program or policy can work in one city, it can spread across the country and even across the globe," Michael R. Bloomberg, philanthropist and mayor of New York City, said in prepared remarks.
"Too often, great ideas don't get the support — or the funding — they need," added Bloomberg. "The Mayors Challenge helps eliminate those obstacles by elevating and funding the most promising and innovative ideas. In the months ahead, we look forward to seeing these ideas implemented, take root locally, and then hopefully spread across the nation to improve the lives of all Americans."
Winners were chosen based on four criteria: vision, the ability to implement their idea, potential for impact and potential for replication.
The selection committee responsible for choosing the winners was co-chaired by Ron Daniel, Bloomberg Philanthropies board member and former managing partner of McKinsey & Co., and Shona Brown, senior vice president and head of Google.org.
In addition to the prize money, which is earmarked to help the winning cities implement their initiatives, each of the winning cities will receive a trophy specially designed by artist Olafur Eliasson.
To read more about each winner, visit: mayorschallenge.bloomberg.org.