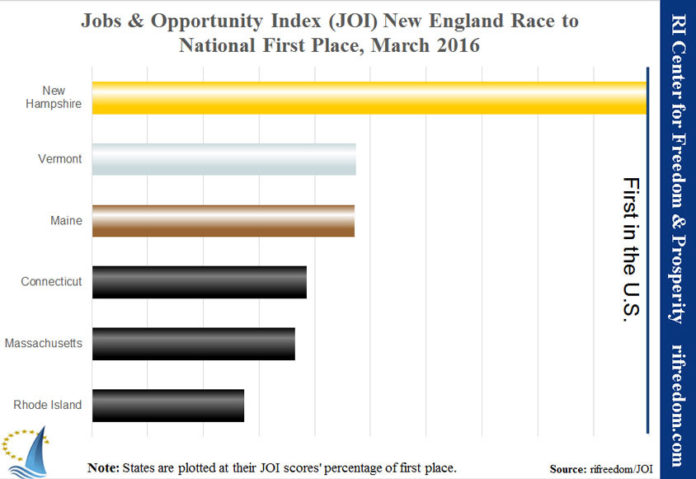 PROVIDENCE – Rhode Island ranked 48th nationally – or third worst in the nation – for jobs and opportunity in March, according to a new study released Thursday by the Rhode Island Center for Freedom & Prosperity.
The center, which bills itself as nonpartisan and nonprofit, created a Jobs & Opportunity Index, studying the job outlook factor, which measures people's optimism about work opportunities, the freedom factor, which compares the number of jobs and people working with the number of people receiving public assistance, and prosperity factor, which compares gross personal income with total government taxes collected.
States are scored on a 0-100 scale, and Rhode Island scored 17.4, placing it 48th in the nation, the center said. It said Rhode Island has been stuck at the rank of 48th since 2012, despite the unemployment rate falling to 5.4 percent over the year in March.
"I don't think too many Ocean Staters feel as good about their family's prosperity as the unemployment rate might suggest. It's important that our lawmakers understand this dynamic," Mike Stenhouse, CEO for the center, said in a statement.
Among the three factors that comprise the JOI score, Rhode Island ranked 48th on job outlook factor, 39th on freedom factor and 46th on prosperity factor.
New Hampshire placed first on the Jobs & Opportunity Index, and the center said it has been in first or second place since 2005, for as long as it has had data.
The center said the near tie of Vermont and Maine, ranking 21st and 22nd, respectively, is a recent development, with Vermont sliding and Maine on the upswing. In comparison, it said Massachusetts and Connecticut have been slipping, to 37th and 33rd, respectively.
Delaware ranked last on the list at 50th.
The Jobs & Opportunity Index takes into account 13 data sets including multiple additional employment categories, as well as income, taxes and welfare program enrollment, the center said.