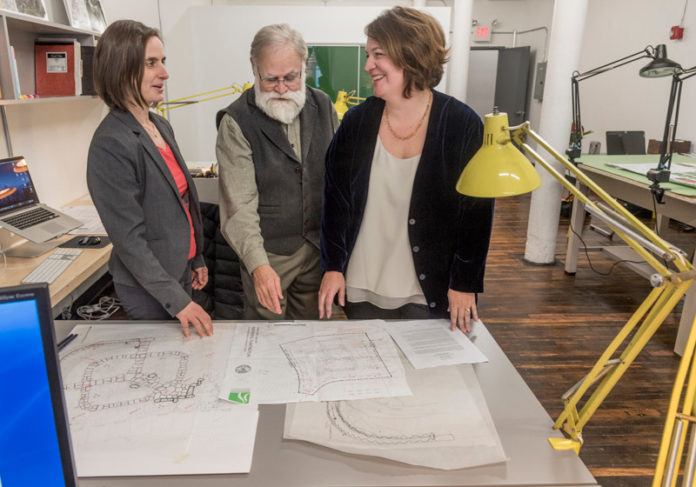 The work of a landscape architect sometimes isn't readily seen: the gentle slope of a hillside that looks like it was always so, an awe-inspiring view of the state capitol, perfectly framed by shade trees.
Searle Design Group LLC has had a hand in many of those scenes in Rhode Island over its long history.
The small business, originally established in 1975 as Searle and Searle, then reincorporated in 2015, has major redevelopments on its project list, as well as ongoing relationships with clients, including Swan Point Cemetery.
In January, the company relocated for the first time, leaving a basement space in the College Hill neighborhood of Providence for Hope Artiste Village in Pawtucket.
A new year, a new start for a business that has worked on numerous projects in historic preservation, in reimagining urban spaces and reclaiming mill properties for new purposes.
"What we like to do when we go to visit a new project is to make an evaluation of a site's constraints, its opportunities, any issues and then marry those with what our client needs and wants," said Taber Caton, a principal. "What is the capacity of the site and what would our client like to achieve there?"
For the Handicraft Club, a private club on the East Side of Providence, the group refashioned the garden and entrance to the building to make the topography less challenging. For homeowners of a historic house on Benefit Street, they took a site that had been cleared and created a lush overlook on downtown Providence.
Colgate Searle Jr., a principal who also teaches in the landscape architecture program at Rhode Island School of Design, said the small business also has experience in open-space planning. It prepared an open-space plan several years ago for Block Island, which required it to determine which lands were most important for saving.
The work involved determining "what the real values were for open space, and public use, and to document those in a way that the citizens could understand why their land wasn't as valuable as others to be purchased," Searle said.
The group is now working with Swan Point Cemetery, on an expansion of the cemetery and addition of new grave sites. It is the first expansion of the cemetery in years. Part of the challenge in working with the historical site is to integrate the old with the new.
The cemetery, which predates Butler Boulevard, is the burial ground for many of Providence's most notable residents.
In the expansion on the northern side of the property, Searle is laying out the traditional elements, such as gravesites and columbaria, with plantings, stone paths and walkways that are reminiscent of the older areas of the garden cemetery.
As with all clients, the company incorporates the purpose of the cemetery into its design.
"It's a beautiful park that people from the neighborhood enjoy," said Melissa Bagga, an associate principal. "But it's also a place where people who are at a very particular time in their lives, grieving, go to remember their loved ones. It has a profound impact on their lives." •