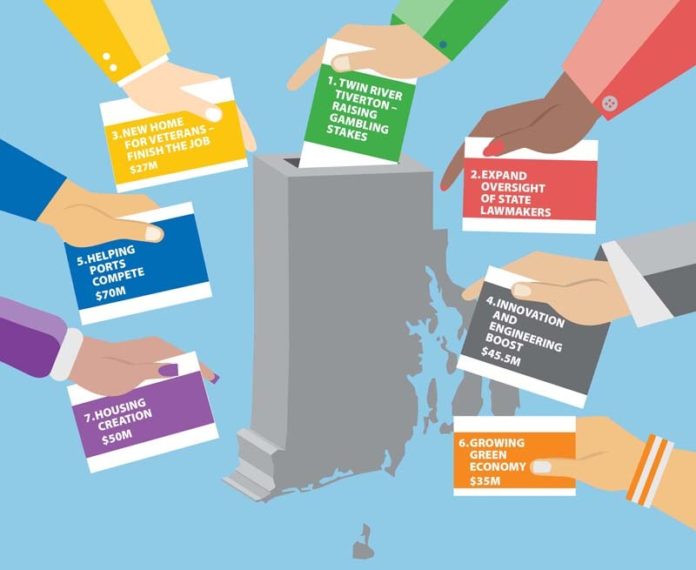 The seven statewide referendum questions before Rhode Island voters this year are a snapshot of economic and social requests. They address issues of ethics and accountability, and expansion of casino gambling in a time of increasing interstate competition.
Other questions relate to bond requests and in some cases address priorities of past years that remain unmet, such as housing creation and expansion of veterans services. In other cases, such as the establishment of a $20 million amount for a campus innovation center affiliated with the University of Rhode Island, they represent new investment ideas.
In requests for general obligation bond authorization, the state seeks permission to borrow $227.5 million.
Seven questions will appear before voters on Nov. 8, including five that involve financing. For approval, each question requires a simple majority.
Q1: TWIN RIVER TIVERTON
Four hundred feet from the Massachusetts line, in Tiverton, the owner of Twin River Casino in Lincoln hopes to open a new gambling venue, to be called Twin River Tiverton. It will be accessed off Route 24 but is designed to not be visible from the road.
The $75 million facility will include some 1,000 slot machines and 32 table games in an 85,000-square-foot footprint that will include restaurants and a hotel. The gaming business, if approved, will use the license now held by Newport Grand LLC.
Proponents, including state legislative leaders and the project owners, say it will result in significantly more revenue heading to the state than from the Newport venue.
The Tiverton casino will allow Rhode Island to compete more effectively with casinos scheduled to open in Massachusetts over the next several years, according to John E. Taylor Jr., chairman of Twin River Worldwide Holdings Inc.
"It's about jobs and the economy," he said. Specifically, the new casino will generate 550 to 600 jobs. Of those, 150 or so will be offered first to employees of the current Newport Grand, he said.
Under the state law that authorized the facility – subject to referendum approval – the new casino will send 1 percent of its net table-game and video-terminal revenue to Tiverton each year, and 15.5 percent to the state. Tiverton is guaranteed a $3 million payment annually from its casino revenue. If the casino revenue falls short, the difference is to be taken from the state's share, according to the law.
Newport Grand generated $26.7 million in 2016 in revenue to the state, as compared to $27 million in 2015, according to figures provided by the R.I. Department of Revenue. That amount is expected to increase to $68 million once the Tiverton casino opens, according to an economic impact study released in September by the Twin River Management Group, even assuming it has competition from Massachusetts gaming venues.
The study said the Tiverton casino could generate $91 million if a Taunton casino isn't pursued.
If approved, the casino is expected to open by mid-2018, which would put it ahead of efforts to establish resort casinos in southeastern and eastern Massachusetts.
To pass, the referendum must be approved by a majority of statewide voters, as well as voters in Tiverton.
For the town, the casino has pledged to pay approximately $1 million annually as part of its market-rate property taxes and fees. And it will hold job fairs in the town, at which residents will be invited first to apply for jobs, Taylor said.
Dealers earn an average annual compensation of $56,000, including wages, tips and benefits, he said.
As recently as two years ago, Rhode Island voters approved expansion of casino gaming in a statewide vote. Efforts to add table games to Newport Grand, undertaken in both 2012 and 2014, failed with the Newport referendums.
Partly as a result of increased competition from casinos in Massachusetts, state revenue from gaming decreased by $11.7 million this past fiscal year, according to the R.I. Department of Revenue.
Opposition to the proposed casino has emerged recently in Tiverton, where a "Save Tiverton" campaign has been launched. The website for the organization argues the proposal will ruin local businesses and makes little economic-development sense, because it will rely on the gambling losses of local residents.
The website states it is sponsored by the Interfaith Clergy of Tiverton and Little Compton, as well as community members who were not identified. The Rev. John Higginbotham, rector of Holy Trinity Episcopal Church in Tiverton, who has spoken publicly against a casino, did not immediately respond to requests for comment.
The opponents, whose site is at www.savetiverton.com, had not filed any campaign finance reports with the R.I. Board of Elections as of late September. The organization will be required under state elections law to file campaign finance reports if it spends any money.
By comparison, the operator-financed casino campaign has spent heavily. Among its efforts is a new website, www.yesquestion1.com.
Through August, the pro-casino Citizens to Create Jobs and Protect Revenue Inc. had spent $716,562 to promote a "yes" vote for the casino, according to reports filed with the Board of Elections.
Q2: ETHICS COMMISSION
What a difference a year makes.
After years of stymied efforts by proponents of government reform, the General Assembly this year took action on a bill to restore the full power of the Rhode Island Ethics Commission to enforce the state's code of ethics.
This past summer, legislators voted to place on the general election ballot a question asking voters whether to amend the state constitution to place the activities of the General Assembly members under the full jurisdiction of the ethics commission.
That authority had been removed in 2009, when a state Supreme Court decision essentially gave assembly members immunity while they participated in core legislative activities.
Since then, members have still had to file financial disclosures, but the ethics commission has had no recourse over whether they should recuse themselves from conflicts. In fact, because it could no longer enforce its advisory opinions, the commission stopped issuing them on whether lawmakers should recuse themselves from upcoming votes or discussion at all, according to John Marion, executive director of Common Cause Rhode Island, which supports approval of the question and restoration of full ethics commission oversight of the assembly.
The ethics panel and its actions have historically acted as a kind of "canary in a coal mine," Marion noted, revealing ethical lapses that shed light on elected officials.
In 2007, former Rep. Raymond E. Gallison Jr., a Bristol Democrat, was fined $6,000 for failing to disclose income on his financial reports. Gallison, who later became the House Finance Committee chairman, resigned this year and is reportedly under a federal investigation.
In 2003, the ethics commission fined then-House Majority Leader Gordon D. Fox $10,000 for participating in a vote on two bills that helped relocate GTECH (now International Game Technology PLC) to Providence. Fox, an attorney, worked for a legal firm that financially benefited from the company's move. Fox is now serving a prison term after pleading guilty to federal charges, including accepting a $52,000 bribe and using $108,000 in campaign funds for his personal use.
The court case that removed the assembly from ethics oversight stemmed from a lawsuit filed by former Senate President William V. Irons.
The ethics commission, following up on a complaint, had determined Irons, an insurance broker, should have recused himself from discussion and two committee votes on a bill affecting CVS Health Corp. and other pharmacies. His challenge of that decision led the Supreme Court to conclude that the "speech in debate" clause that is part of the state's constitution protects legislators from challenges to core legislative duties, including proposing and voting on legislation.
The question now before Rhode Island voters would establish a specific clause in the constitution to specifically allow the ethics commission to enforce the existing code of ethics which, among other things, prevents legislators from voting on issues that affect their financial interests.
It has the support of the state's elected officials, including House Speaker Nicholas A. Mattiello, D-Cranston, and Senate President M. Teresa Paiva Weed, D-Newport.
In late September, a "Yes on 2" campaign was launched by the Rhode Island Coalition for Ethics Reform, an advocacy organization that includes Common Cause Rhode Island and other supporters.
A report it filed with the Board of Elections on Sept. 25 listed $26,190 in contributions, including a $25,000 donation from retired Hasbro Inc. CEO Alan Hassenfeld.
Opponents also have emerged.
The American Civil Liberties Union of Rhode Island has published a position statement on its website, expressing reluctant opposition because of concern that it could have potentially adverse effects on the electoral process.
If the question is approved, the Ethics Commission would have "virtually limitless authority to decide what constitutes a 'conflict of interest' or ethical misconduct when it comes to both legislators' votes and their participation in the legislative process," the organization stated.
In a recent interview, Mattiello said the public has a right to know that legislators are acting in their constituents' interests, and not their own.
Not all legislators think the oversight will make a difference.
House Minority Leader Brian C. Newberry, R-North Smithfield, has said he will vote against the question. It won't lead to better government, he predicted, but instead will be used by politicians seeking to damage others.
"It's going to lead to a proliferation of bogus ethics complaints against elected officials," he said.
Marion, of Common Cause, said the lack of oversight has led to fewer recusals among legislators.
"We've documented a 40 percent decline in the Senate and a 60 percent decline in the House in that four-year period," he said. Under the current process, the individual decides whether to recuse himself or herself from discussion or voting on matters.
And if there is a conflict, or even an appearance of a conflict, there is no enforcement mechanism, he said.
"Theoretically, the House and the Senate could punish their own members, but that has never happened," he added.
Q3: Veterans Home
This request would authorize the state to issue bonds to cover a projected shortfall for the Veterans Home, a project underway in Bristol to renovate existing facilities and create new housing for the state's military veterans. The facilities are expected to be completed next fall.
In 2012, state voters authorized the project, then projected to be completed at $94 million, with the requirement that state borrowing be lowered by any federal help. The total cost of the project is now estimated at $121 million, according to a state budget overview, and the federal government is expected to contribute $60.5 million. This leaves a shortfall of up to $27 million, according to an overview.
The request would authorize the state to issue up to $27 million in bonds to complete the project.
Q4: Innovation and Engineering
The University of Rhode Island is requesting $45.5 million to improve its teaching facilities and establish new programs aimed at fostering innovation.
The funds would be divided into two initiatives. Slightly more than half of the bond amount, $25.5 million, would go to a renovation and new addition at Bliss Hall, one of the oldest buildings in the engineering college. The project would add classrooms and offices, modernize laboratories and upgrade internal systems.
Another $20 million in the bond request would establish an Innovation Center affiliated with URI, which would bring industry into partnership with the university at a shared facility.
If authorized, the Bliss Hall renovation and addition would complete the College of Engineering building campaign initiated in 2014, when voters approved a $125 million bond issue to replace five midcentury buildings with a modern, 194,000-square-foot consolidated engineering structure.
That project remains in the planning phase. The buildings will be demolished in March.
The undergraduate engineering programs at URI have grown in recent years, from 1,200 to 1,550 students this year, according to College of Engineering Dean Raymond M. Wright. That number is expected to grow to 1,750 by the time the new facilities open, he said.
The improvements to Bliss Hall, which is home to the civil engineering program, are critical to the program expansion, Wright said.
Originally, the Bliss work was to be a part of the 2014 bond request, but was separated out at the request of former Gov. Lincoln D. Chafee's office. This year, Gov. Gina M. Raimondo proposed the $25.5 million bond for the remaining work.
The remaining $20 million in the bond question would establish the state's first innovation center, which URI President David M. Dooley described as a site to foster cutting-edge research into products, services and businesses that will build the state's economy.
A competitive process, to be led by R.I. Commerce Corp., would determine what industries or businesses would partner with the university and in what location.
The General Assembly stipulated that the innovation center affiliate with URI, the only public research university in Rhode Island.
Dooley says URI is uniquely positioned to participate in the center, citing the university's strengths in producing graduates in science and technology programs that the state has been encouraged to create and promote in a new economy.
If approved, the location of the center would not be restricted to URI's main campus and could be located closer to the industry partner or partners selected by the state, Dooley added.
"The way I see it, it will be a location where people from the universities, certainly the University of Rhode Island, and the private sector can come together to pursue advanced research and development projects that have a very high probability of leading, in a relatively short time, to either new products, improvement of existing products, new services or even new companies as a result of the research, discovery and findings that take place within the center," he said.
Q5: Port Expansions
Two commercial ports in Rhode Island, the Port of Davisville and the Port of Providence, are seeking bond financing to help them expand their facilities and operations.
Advocates say the investment will help the facilities expand and attract new business, compete more effectively with other regional ports and add to the economic activity of the state.
Of the proposed $70 million for port infrastructure projects, $50 million would be directed to the Port of Davisville, at Quonset. The funds would be used to modernize and repair its facilities, specifically an investment at one of its two piers.
The remaining $20 million would go to the Port of Providence, for acquisition of up to 25 acres on the Providence waterfront, north of the existing ProvPort footprint.
The investment at ProvPort would allow the landlocked port to add more uplands to its footprint. The port has identified six potential properties for purchase, between Allens Avenue and the Providence River.
By way of comparison, according to Quonset Development Corp. Massachusetts has authorized more than $600 million in recent years on its port facilities, including $113 million on the recently completed New Bedford Maritime Commerce Terminal and $310 million for a deepening project at the Boston Harbor Channel.
Connecticut has committed to spending more than $700 million on its ports over the next 30 years, according to David Preston, a spokesman for Quonset Development Corp.
Of ProvPort, he said, "The fact is, they're bursting at the seams and they are out of space."
Proponents of the question have formed a nonprofit corporation, the Rhode Island Ports Coalition, to promote a "yes" vote. The entity had collected $153,500 in contributions through Sept. 30, including $50,000 from North Atlantic Distribution Inc., based at the Port of Davisville, and a leading national auto importer. Other large contributions, of $37,500 each, came from Ray Meador and Bruce Waterson, the chief financial officer and chief operating officer respectively of Waterson Terminal Services, the company that operates ProvPort.
In its documents, Quonset said proceeds from the bond will be directed to expansion efforts in four key segments: auto imports and processing, project cargo, short sea shipping and off-shore wind cargo.
Davisville had 193 ship calls in 2015, setting a record, which put it just behind ProvPort for ship activity. Among other things, the facility imports autos and moves processed fish and bulk materials such as lumber. The facility is operated by the Quonset Development Corp.
Auto processing, for example, is expected to grow annually by as much as 4.5 percent for the next six years. Already, the port takes in 227,000 new vehicles annually and is among the top 10 in North America for auto imports.
Pier 2 is the only viable option at the port for both wind and project cargo, according to Quonset. The offshore wind components, including blades, towers and foundations, are heavy and require a wharf that can bear that weight as well as additional space for support operations.
Pier 2, a wharf pier, occupies approximately 22 acres and can handle 1,000 pounds per square foot. It has two heavy-lift platforms. Constructed in the mid-1950s, it was designed for a 50-year life span, according to Quonset.
The proposed rehabilitation would add a third berth and extend its life for another 50 years. The total project cost of $90 million would be financed with the $50 million general-obligation bond, as well as $15 million from the state capital fund and $25 million from a port-funded revenue bond, to be repaid by port users.
Q6: Green Economy
Voters are asked to approve $35 million in borrowing that would allow the state to invest in environmental improvements and recreational resources.
The bonds, if approved, would improve existing state parks, preserve open space, develop new dedicated bike paths and clean up contaminated sites, among other purposes.
The $35 million request will be divided among seven programs.
The largest share would put $10 million to the state's Bikeway Development Program. Another $10 million would be divided between remediation and redevelopment of "brownfields," or former manufacturing or industrial sites, and a matching grant program for local recreational developments.
Smaller grant amounts would go to historic state park improvements, land acquisition, stormwater-pollution-prevention efforts and a matching program for local land-acquisition efforts.
The $4 million set aside under the bond package for state parks would include improvements to the stone barn at Colt State Park, a major renovation of the Goddard State Park bathing pavilion and improvements to Fort Adams State Park, according to a state overview.
Q7: Housing Creation
Housing affordability and blighted properties, two issues that have burdened Rhode Island for more than a decade, are the targets of this referendum question.
The $50 million requested in general-obligation bonds would be used primarily for housing creation. Forty million dollars of the bond would go to the Housing Resources Commission to develop affordable-housing-opportunity programs, through development of new construction or redevelopment of existing facilities.
Another $10 million would go to blight remediation and urban revitalization. This could include rehabilitation of commercial and residential properties, as well as public spaces.
The need for additional, affordable housing is well-documented in Rhode Island, according to Barbara Fields, executive director of Rhode Island Housing.
In mid-September, the 2016 Housing Fact Book, released by HousingWorks RI at Roger Williams University, found more than half of renters were cost-burdened, meaning they pay more than 50 percent of income for rent and utilities.
The need for affordable housing for young, as well as older, residents is clear, Fields said. Rhode Island Housing in mid-September launched its "Yes on 7" campaign, by highlighting a renovation project, the Gately Building in Pawtucket, converted to affordable housing under an earlier round of funding.
In 2006 and 2012, voters overwhelmingly approved similar requests for bond financing to support affordable housing.
"I would guess we've touched between 28 and 30 communities with the money" from those bonds, Fields said.
If approved, the bond proceeds this year would be directed to projects on a competitive basis. No list has been predetermined.
"There is an enormous demand," Fields said. "We need 35,000 to 40,000 homes in the next 10 years to meet the demand."
A recent completion of affordable-rate apartments in Providence, called Sankofa, drew 1,000 applications for 50 units, Fields noted.
"No matter where you go in the state, rental rates are rising," she said. •