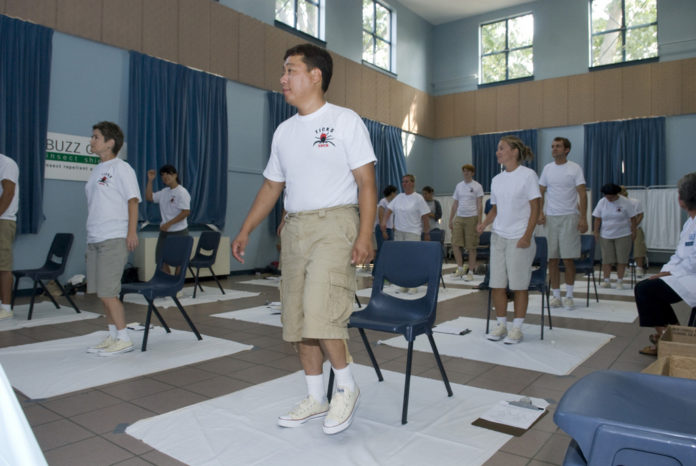 Sarah Smith sat calmly for two afternoons as dozens of deer ticks crawled up her legs and arms and burrowed their tiny heads under her skin.
Smith, a graduate student studying marine affairs at the University of Rhode Island, joined 14 other subjects in a research trial on Sept. 6 and 7 to study the effectiveness of tick repellents sprayed onto clothing rather than directly onto the skin.
"We know that if we put ticks on treated clothing, they fall off and die. … But we didn't know what would happen if we put ticks on people and then let the ticks sort of distribute themselves underneath treated clothing," said Thomas Mather, director of URI's Center for Vector-Borne Disease, where the trial was conducted.
The volunteers in the two-day trial spent about two and a half hours each day covered with 30 lab-raised, pathogen-free ticks. Some wore shorts, T-shirts and shoes sprayed with brands of clothing-only tick repellents that contain the insecticide permethrin; others who acted as the experiment's control group wore clothing with no repellent.
The ticks were placed on the foot, knee and elbow of each volunteer – the body parts that most often come in contact with ticks as people walk in the woods, reach into piles of leaves while doing yard work or kneel while gardening, Mather said.
Ninety-five percent of all tick bites start at the level of a person's foot and occur when the tick climbs over the shoe and bites the lower leg, he said.
Watching a movie to pass the time while covered with ticks, the volunteers were directed to stand, sit and walk in place to simulate time spent outdoors. At the end of the two-and-a-half hour period, the ticks were retrieved to determine how many died or dropped off the volunteers.
"When they first put the ticks on you, you could sort of feel them crawling around, and you could feel them a little bit when they would bite," Smith said.
Smith said almost all of the 30 ticks that researchers put on her body during the first day of the trial died. On the second day, when Smith was in the control group and wore clothing without tick repellent sprayed on, almost all the ticks were still alive and sucking on her blood at the end of the trial, she said.
"I have a dog, so ticks don't really bother me too much," said Smith, who responded to an e-mail sent out to URI students soliciting volunteers for the trial.
Despite the obvious gross factor, it wasn't difficult to find volunteers, who were each paid $300 to participate in the trial, Mather said. Though he only needed 15 volunteers, well more than 100 people contacted his staff wanting to participate.
Mather said he and his research team would spend some time crunching the data they collected during the trial before possibly publishing the results in a research paper. Without providing details, he said the trial showed there was definitely a benefit to treating summer clothing with a pemethrin-based tick repellent before doing outdoor activities.
"An awful lot of what happened here is that a lot of the ticks that did attach underneath someone' T-shirt or shorts were dead if the clothes were treated," he said.
The research is important, Mather said, because Lyme disease and other tick-borne diseases represent a significant and growing health concern in this country and for Rhode Islanders in particular.
In the 15 years that the Center for Vector-Borne Disease has monitored the state's tick population, the number of Rhode Islanders at potential risk of encountering a tick in their own back yard has grown from 275,000 to 700,000 in 2006 – or almost 70 percent of the state's population, Mather said. Last year was the second highest tick year in that time span, he said.
And though vector-borne diseases like Lyme disease, West Nile virus and Eastern Equine Encephalitis make headlines every summer, Mather said, Rhode Islanders die every year from two potentially fatal and virtually unheard-of diseases carried by ticks, babesiosis and anaplasmosis.
One-third of all those who get exposed to Lyme disease through a tick bite are also exposed to babesiosis and anaplasmosis, he said.
In all, the economic impact of tick-borne illness in Rhode Island is about $10 million annually, including medical expenses, lost wages, workers' compensation and other costs, Mather said.
"Our program is looking for ways to reduce the impact of tick bites and tick-borne diseases on the population, and repellents seem like a no-brainer. But they would have to prevent tick bites," he said. "So we've been kind of pushing this concept." •