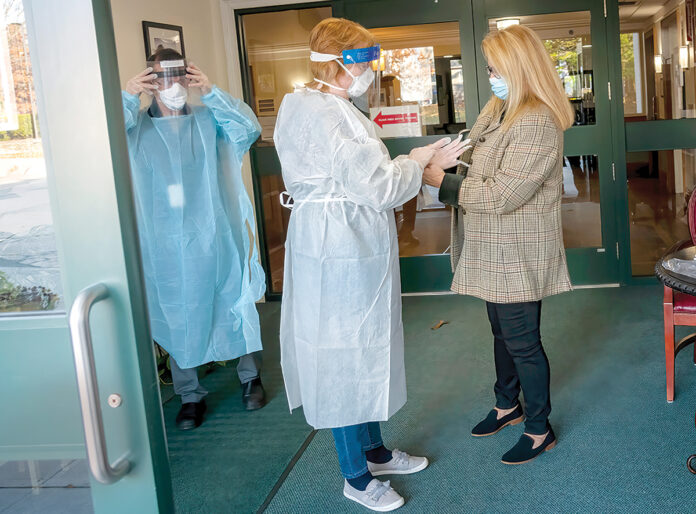 HEALTH CARE
---
The health care system in Rhode Island, transformed by expanded health care insurance access, is preparing for further change as 2021 draws to a close.
Lifespan Corp. and Care New England Health System, the state's largest hospital systems and among its largest private employers, finalized an agreement to merge into a single entity in early 2021 and were awaiting several governmental reviews.
The health care community was beset by the COVID-19 pandemic, which hit Rhode Island in early 2020 and remained a public health emergency into 2021. Along with the deaths of more than 2,800 Rhode Islanders by late October, the pandemic put great strain on the health care system.
It led directly to renewed talks among Brown University, Lifespan and Care New England about a merger after the executives for the two health systems said they realized what they had gained by partnering in responses to the pandemic.
If approved, the two health care systems would combine forces and partner with Brown, leading to what proponents say will be improved health care options, less duplication and more innovation that will help the Rhode Island economy.
The merger, sought on and off for more than two decades, requires approval by the R.I. Department of Health, the R.I. Office of the Attorney General and the Federal Trade Commission. State legislators are also keeping a keen eye on the process. Many are concerned that the merger would lead to a loss of jobs and potentially cutbacks in services, particularly at community hospitals.
Starting in 2017, the closure of most services at Memorial Hospital in Pawtucket, then a Care New England holding, led to increased emergency room wait times at the next-closest hospital, The Miriam Hospital in Providence. Pawtucket residents and city leaders, frustrated at the loss of jobs and activity in one of its largest neighborhoods, argued unsuccessfully to keep Memorial open.
By early 2020, the COVID-19 pandemic was consuming all public attention and focus. Hospital and nursing home staffs struggled in the early months of the pandemic to secure enough personal protective equipment to prevent infection.
Nursing homes suffered through large outbreaks of the disease among patients and staff.
By mid-July, the Department of Health reported about 1,500 deaths attributed to COVID-19 were reported at the state's nursing homes, about 55% of the state's total pandemic-related deaths at the time. Nearly 5,800 nursing home residents had reported infections.
By the spring of 2021, with access to approved vaccines, the situation had stabilized across much of the state. But state leaders have continued to keep tabs on the health care response and capacity.
Three field hospitals were opened in the fall of 2020 by then-Gov. Gina M. Raimondo to accept hospital patient overflow. But the need for COVID-19 hospitalizations didn't materialize as much as state officials initially feared. As the infections subsided and hospitalizations decreased, the auxiliary hospitals were decommissioned.
The pandemic put a large strain on other health care providers. For a period early in the pandemic, dentists, physical therapists and other health care practices were ordered shuttered to conserve PPP and avoid infection. Many older practitioners retired.
Long after businesses were allowed to reopen fully, the backlog of nonemergency services was still being addressed into 2021.
Nursing homes have continued to struggle with inadequate staffing.
The pandemic exacerbated already existing shortages in staff, according to the health care executives. And additional costs to fight the pandemic and the loss of new residents put nursing home operators in a financial vise.
At Bethany Home of Rhode Island, a nonprofit, 33-bed facility, administrator Elizabeth "Libby" Sarro reported that staff had shrunk in 2020 from 80 in February to 57 in November, just as COVID-19 cases in the state were climbing.
She used a state grant of $21,000 to provide raises for her staff. "They're exhausted. And they deserved it," she told PBN.
By the summer of 2021, the pandemic's impact on the health care system seemed to be in check. Although cases were continuing to be reported, hospitalizations had plummeted.
Now led by Gov. Daniel J. McKee, the state was looking internally at its own state hospital system. The Eleanor Slater Hospital, a system of four separate hospital buildings in Cranston and Burrillville, was in danger of losing its accreditation through the Joint Commission, a nonprofit organization that oversees accreditation at 22,000 hospitals in the U.S. Its initial report found deficiencies in the hospital facilities, including torn pavement that had ensnared a patient in a motorized wheelchair.
In June, McKee announced a state investigation into management and facility practices at the hospital. An initial review found patient care was not compromised, but it also found administrators were disorganized and the facilities were in disarray and poor condition.
Additional reviews are under way, including by the attorney general's office.
McKee, in July, promised that, if need be, the state would fix the problems by providing more capital funds to improve the hospitals.
"Just like any other hospital, patients at Eleanor Slater Hospital deserve the highest levels of care," McKee said at a press conference. "The patients deserve to receive medical care in a facility that is well-maintained, where repairs are addressed in a timely manner."
The hospital received accreditation from the Joint Commission in September.