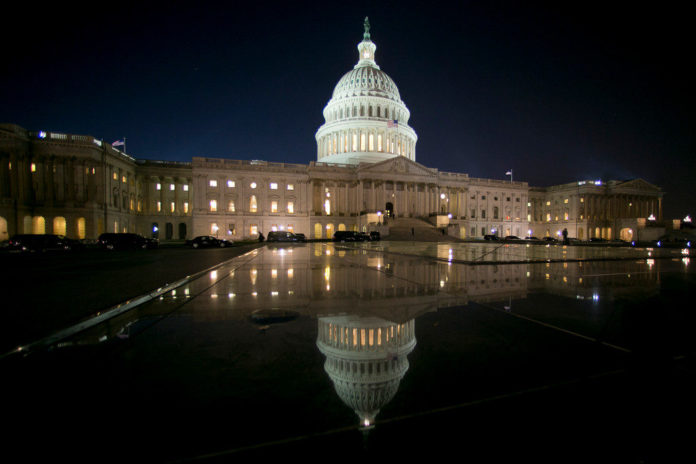 PROVIDENCE — HealthSource RI Executive Director Zach Sherman's hopes for health insurance market-stabilizing legislation were dashed Tuesday when U.S. Senate Health, Education, Labor & Pensions Committee Chairman Lamar Alexander acknowledged that his bipartisan Affordable Care Act reform effort lacked enough votes, coinciding with a second Senate GOP effort to repeal the ACA.
"It's unfortunate that Senate leadership has decided to focus on efforts, such as repealing the Affordable Care Act, that would likely hurt millions of Americans. By removing Sen. Alexander's bipartisan legislation from the conversation, Congress is one step further away from strategies needed to stabilize health insurance markets," said Sherman.
The Republican ACA proposal, authored by U.S. Sens. Lindsay Graham R-S.C. and Bill Cassidy R-La. repeals and modifies elements of the Affordable Care Act, including rolling back the expansion of Medicaid. A major piece of the proposal replaces existing funding formulas with a block grant given to states that allows them to recast how individuals pay for their health insurance and care.
The proposal would eliminate the individual mandate to enroll in health care and the tax credit for those who do enroll, as well as protections for people with pre-existing conditions, according to an assessment by the Center on Budget and Policy Priorities.
Gov. Gina M. Raimondo said the Graham-Cassidy Bill would cost Rhode Islanders more than $20 billion over the next 20 years if passed.
The repeal would take insurance away from 89,000 Rhode Islanders, according to the Center for American Progress and cut $625 million from the state's health care budget in 2026 alone, according to another report from the CBPP.
"This bill would mean that some of the most vulnerable Rhode Islanders among us would lose their access to critical health services and care, and it would deal a major blow to the public health work we are doing to keep our communities healthy and safe," said Dr. Nicole Alexander-Scott, director of the R.I. Department of Health. "Graham-Cassidy slashes Medicaid spending and eliminates $8 million a year in funding for public health that Rhode Island currently gets through the Prevention and Public Health Fund."
Dr. Marie L. Ganim, the R.I. Health Insurance Commissioner, said the bill's timing, rushed ahead of a Sept. 30 deadline without the analysis of the non-partisan Congressional Budget Office, is troubling.
"Both the state budget and individuals who pay for health insurance will feel significant costs shift to them. The state will lose funds that pay for persons who need nursing home and other expensive care, and for health insurance for families and individuals," said Ganim. "The bill will reduce the essential benefits that the ACA requires insurers to cover, such as emergency room visits and medicines. What good is health insurance if the coverage is not there when you need it?"
Ganim added that, "removing the requirement that individuals have insurance sounds good, but actually will increase the cost for everyone who has insurance – by putting the total cost burden on fewer people to pay for health care."
"In the Health, Education Labor and Pensions Committee, we began a series of hearings this month on bipartisan ideas that would build on the gains we have made under the Affordable Care Act," said Sen. Sheldon Whitehouse, D-R.I. "I hope Republicans will come back to the table because compromise and cooperation reap the best outcomes."
Alexander's bipartisan legislation was the basis for a recent letter sent by Sherman and 11 other insurance marketplace executive directors detailing consensus strategies to bring stability to the individual market.
The state-based marketplaces, including HSRI, and the state-based marketplaces operating on the federal platform have attracted a healthier risk mix, attained lower rates of attrition, and maintained steadier issuer participation in their marketplaces than in states operating on the federally facilitated marketplace (healthcare.gov), according to Jennifer Laudano, at the National Academy of Health Policy.
"Rhode Island is a model for successful implementation of the Affordable Care Act. We were recently ranked third-highest in the nation for percentage of children with health insurance coverage — thanks in large part to the ACA," said Raimondo. "It's bad enough to put that progress at risk. But cutting access to health insurance for our poorest and sickest so that the rich can get a tax cut is truly immoral."
Drawing from their experiences, leaders of the state-based marketplaces recommended the following strategies to achieve individual market stability:
Assure consistent funding of cost-sharing reduction payments
Establish a permanent, federal reinsurance program
Maintain flexibility states had to experiment with innovative strategies for providing access the health care, known as 1332 waivers
Promote stability through a commitment to certainty and long-term solutions
"We believe a focus on these strategies will enable us to maximize competition and affordability of products offered through our marketplaces in 2018 and beyond," said Pam MacEwan, CEO of the Washington Health Benefit Exchange.
But Alexander decided proceeding with his bill, which incorporated their advice, didn't make sense.
"During the last month, we have worked hard and in good faith, but have not found the necessary consensus among Republicans and Democrats to put a bill in the Senate leaders' hands that could be enacted," Alexander said in a statement Sept. 19, six days after the Graham-Cassidy effort was introduced.
Rob Borkowski is a PBN staff writer. Email him at Borkowski@pbn.com.