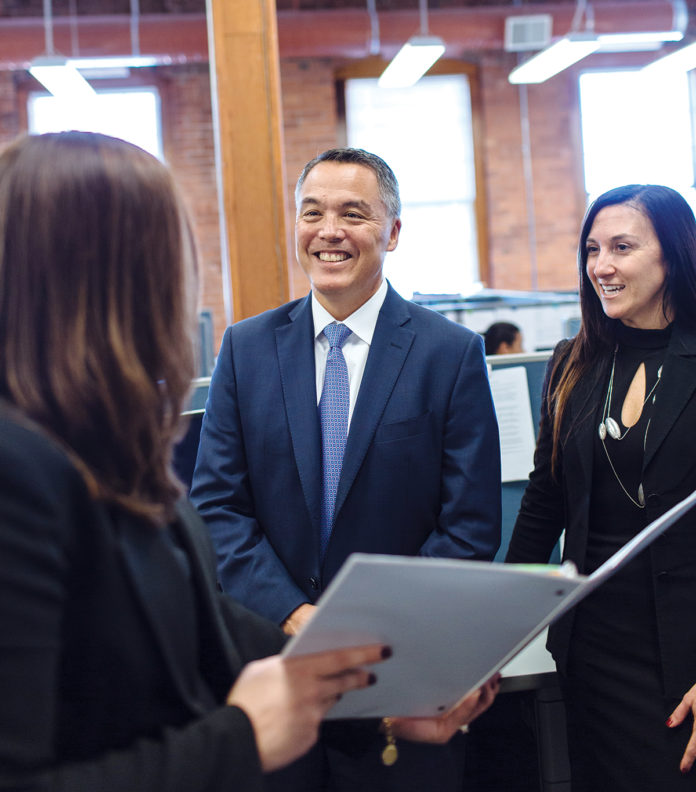 Coastal Medical is a physician-owned-and-governed, primary care-driven accountable care organization based in Providence. It delivers service to 120,000 patients, with 20 medical offices and a team of more than 125 providers. Dr. Al Kurose, president and CEO, says Coastal supports the three-part aim of better care, better health and lower cost, and earned a Medicare Shared Savings Program ACO quality score of 100 percent in 2015.
Is Rhode Island a good place to grow jobs? Why? Well for the moment, it's the only place for us – it's where our patients live and work. We are located in Rhode Island taking care of the people here. But yes, it's a great place to grow jobs: We've added 276 new jobs since 2011. When I saw that number myself, I could hardly believe it. I knew we grew rapidly, but that's pretty incredible.
Where is that growth happening? It's interesting to look at where they work; of all the new jobs, half are in the physicians' offices, half are in corporate. If you look at the 50 percent in the offices, you might have found traditional roles, doctors and staff, in community-based primary care offices 10, 15 years ago, but since 2011, a lot of those people are doing jobs that didn't exist before.
JOBS
2016: 625
2017: 652
Such as? When we started doing accountable care in 2012, newer roles were created, [such as] nursing care manager, clinical pharmacists, quality assistants, data analysts, medical assistants. They didn't exist in the single primary care model, but now we're doing population-health management, so we need new roles. I was in primary care for 20 years, and what it used to be was you'd pretty much just take care of patients coming in to see you. Now it's much more proactive outreach, including a lot of preventive health, trying to keep people healthy so they don't need as much care.
What kind of outreach? For example, we have a care team of 12 in charge of calling every patient within 48 hours of discharge from the hospital or ER, jobs we created. We reach out and make sure everything you need is taken care of, you know who to see if you need follow-up, whether they're one of our doctors or not. And we have a centralized prescription refill program that created eight jobs, so that at every doctor's office there's no need to interrupt the doctor to refill meds.
We have transformed how to deliver health care, and people are noticing. Recently I saw U.S. Sen. Sheldon Whitehouse questioning Alex Azar, nominee for health and human services secretary, and he talked about Coastal's work and our performance, and invited Azar to come here and visit us. He talked about reducing costs, and paradoxically we've done that by creating all these new jobs.
If government could do one thing to help businesses grow jobs, what would it be and why? I live in health care and have been on advisory committees for health insurance, and talking to owners of businesses small or big; health insurance is the biggest line item. We have to improve the business climate in the state and make health care more affordable and of high quality. Paul Grundy (global director of health care transformation for IBM Corp.) says IBM won't start a new facility without high-quality, affordable health care. If you think about that, it makes perfect sense. From an economic standpoint and strength of the state economy, more efficient and affordable health care would make a more attractive business climate. The government's doing a good job here; it's made consistent efforts, but there's more work to be done.
What's the most important attribute a business leader needs to grow their business/add jobs? The most-effective leaders articulate a vision based on values that matter to people who work at the organization, and its consumers as well. When Sen. Whitehouse invited Azar to come here, that was a great validation of our vision. There's a lot to it; it seems touchy-feely, but I think it's really powerful. When you look at millennials and other consumer segments, they really care more for the values of an organization, they see it as corporate responsibility. It's a little easier in health care, where you can stand up for something good in obvious ways.
In which industry do you see the greatest potential for job growth in Rhode Island and why? Health care innovation. This state is the right size for it, and not just health care but any number of sectors. We already have successful health care companies here, and we're leaders in the country in advanced primary care. Ximedica is here, and Virgin Pulse just opened global headquarters in Providence. There's a real case to be made that Rhode Island is well-positioned to do health care innovation, and spin off a variety of businesses related to that. It could be a huge economic driver.