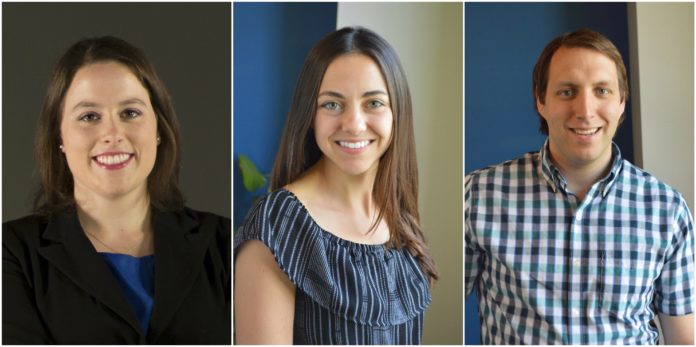 Providence, R.I. (June 23, 2017) – To meet the growing needs of its client partners, multidisciplinary brand culture and communications firm (add)ventures recently announced three advancements at its New England headquarters. Erica Millette of Woonsocket advances to senior director, insights/strategy; Ali McGowan of North Kingstown advances to manager, strategy/pr; and Mark Laslo of Woonsocket advances to manager, technology/operations.
As senior director strategy/insights, Millette leads the implementation of research offerings for (add)ventures' client partners. She transforms stakeholder insights into communications strategies that support business objectives and inform smart brand communications. In her role, Millette utilizes research to drive the development of creative campaigns, social media, public relations materials and video scripts. Millette also leads (add)ventures' content team.
In her most recent position as director, insights/strategy, Millette worked with strategy and creative teams to plan and implement all aspects of (add)ventures' research department, (add)thropology, including facilitating interviews, focus groups, surveys and usability tests.
As manager, pr/strategy, McGowan assists the content team with the development, management and execution of public relations, content marketing and social media initiatives for a range of client partners. Her holistic approach leverages strategic media research, media relations and community outreach to identify publicity opportunities and align content across both traditional media and social media.
In her most recent role as specialist, pr/strategy, McGowan gained skills in media relations, event planning services and the coordination of photography and videography for client partner events. Additionally, she manages the content team's internship program, which includes conducting outreach to colleges and universities, identifying qualified candidates and mentoring interns throughout their experience.
As manager, technology/operations, Laslo proactively identifies and executes technological solutions for (add)ventures. He researches new technology to coordinate the purchasing and procurement of the latest supplies and equipment, and provides technical support, installation and maintenance of all firm equipment.
In his previous role as manager, video/technology, Laslo worked as an editor, videographer and technology manager for (add)motion — the firm's in-house production studio for video and animation — for both the production and post-production stages of video projects.
"We're thrilled to support the professional growth of our internal team at our New England headquarters," said Mary Sadlier, executive vice president and chief strategy officer. "Since joining our firm, Erica, Ali and Mark have exceeded expectations. They play essential roles in identifying strategic solutions and ensuring strong results for our client partners."
About (add)ventures
(add)ventures is an award-winning, multidisciplinary brand culture and communications firm headquartered in New England, with offices in Miami, Fla. and New York City, N.Y. and partnerships with firms in Argentina and Estonia. Founded in 1989, (add)ventures combines strategic intelligence and creative genius to inform, inspire, recruit and retain brand stakeholders. The firm works with Fortune 500 companies, industry and innovation leaders, leading universities, major nonprofits, and governments to create unique, multidisciplinary digital brand communications.