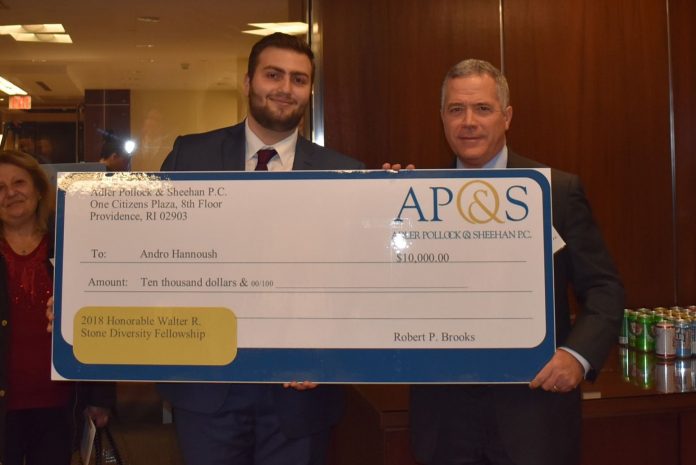 As part of our ongoing commitment to promote inclusion and diversity within the legal profession, we are proud to award Andro S. Hannoush the 2018 Honorable Walter R. Stone Diversity Fellowship. The Fellowship awards a second-year law school student a scholarship of $10,000 and a Summer Associate position at Adler Pollock and Sheehan P.C. ("AP&S").
The Fellowship is named in Honor of the late Judge Walter R. Stone. Judge Stone was the first African-American attorney in the Rhode Island Attorney General's Office, the first African-American Shareholder at AP&S, a member of the AP&S Diversity Committee and a champion of promoting inclusion for all.
Andro Hannoush and his family moved to the United States from Lebanon in 1999. Andro currently attends Suffolk University School of Law. He completed his summer internship at AP&S in August and was offered a full time position starting in September of 2019.
Andro knew at a very young age that he was interested in the law when he saw the legal steps it took for his parents to open a business in the U.S. Andro worked as Law Clerk at Reed & Giordano, P.A. and interned at Oliverio & Marcaccio LLP. He also volunteered at the Immigration Law Education and Advocacy Project at Catholic Social Services. This experience enhanced his ability to work with culturally and economically diverse individuals and showed him the importance of always giving back to the community.
The Diversity Committee is proud to award Andro with this fellowship and with a position as an associate at the firm next fall.
The award was presented by Robert P. Brooks, Managing Partner and Hamza Chaudary, Counsel and Chair of the AP&S Diversity Committee, at a reception held on November 8, 2018.
Developed as part of Adler Pollock & Sheehan's Diversity Plan, the purpose of the fellowship is to encourage and assist a diverse student who has demonstrated academic excellence and a commitment to the community, to attend law school and successfully enter the practice of law, with the ultimate goal of diversifying the legal profession as well as the firm. The financial needs of the applicant, as well as the applicant's desire to work and reside in Rhode Island or Massachusetts upon graduation, are contributing factors in the selection.
Photo attached;
Left to right: Andro S. Hannoush, Recipient; Robert P. Brooks, Managing Partner, Adler Pollock & Sheehan P.C.