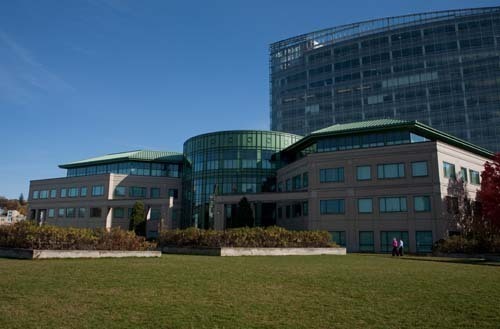 PROVIDENCE – Domestic Bank changed its name earlier this month. Now it's changing its location.
The newly named Admirals Bank will relocate its headquarters to the Gateway Center, the former downtown home of Fidelity Investments, bank officials confirmed Tuesday.
The $265 million bank will occupy the fourth floor of the building that counts the Big East Conference among its tenants. But an Admirals spokeswoman said she didn't immediately have details on the amount of leased space, or when and how many employees will move from the longtime headquarters of Domestic Bank in Cranston.
The signing of the lease Tuesday comes as Admirals' executive team and officers of the bank's holding company, Federal One Holdings LLC, moved into offices in the John Hancock Building in Boston, according to Jaime Lind, the bank marketing director.
While the bank is interested in having a bigger presence in Massachusetts, Admirals will still consider Providence's Gateway Center its home base, with senior executives traveling between Providence and Boston, Lind said.
Built for American Express Co. in 1990, the four-story, 135,110-square-foot Gateway Center is located next to the city's train station, across from Providence Place mall and the Statehouse. It overlooks Waterplace Park and has about 150 underground parking spaces.
U.S. Bancorp bought the Gateway Center for $13 million in a foreclosure auction last fall, a year after Fidelity finished consolidating its operations in Smithfield, which left the building vacant.
A recent real estate listing said 23,272 square feet was available on the fourth floor and placed the rental rate at $23.50 per square foot.
The Big East Conference started renting about 32,000 square feet of office space in the building in March, after Brown University forced the organization to move to make room for its new Warren Alpert Medical School building in the one-time Jewelry District.
The relocation of Admirals' headquarters is another in a recent list of big changes.
The nine-branch bank, an institution founded by the Baker family in 1967, was purchased by Federal One Holdings in May. Earlier this month, the bank changed its name from Domestic and announced it is purchasing four former Millennium Bank branches in Massachusetts from Short Hills, N.J.-based Investors Bancorp Inc. The $94 million transaction has not yet been finalized.
Aside from the Cranston location, Admirals' current locations are in-store branches: Wal-Mart Stores in Warwick, Providence, North Kingstown, Coventry, and Northbridge and Raynham, Mass.; and Shaw's Supermarkets in Johnston and Woonsocket.