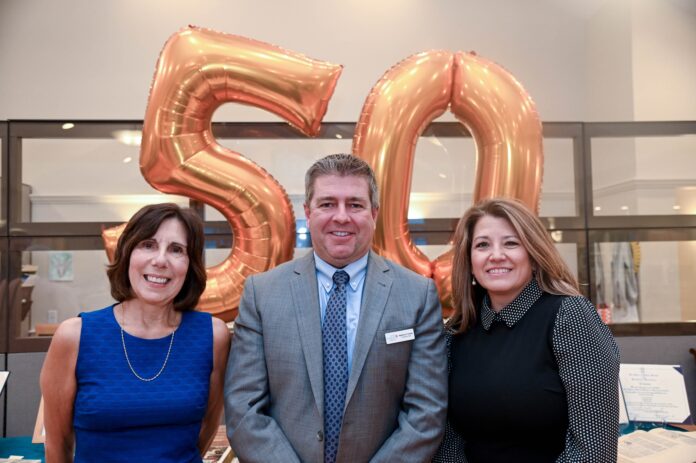 Centers throughout Rhode Island provide a safe space for older adults.
For more than five decades, the adult day centers of Saint Elizabeth Community have provided engaging, supportive services to elder participants. They recently celebrated the occasion, bringing together staff, volunteers and friends from the community to recognize the impact of these programs on Rhode Island older adults.
As Pat Liberty, a retired pastor from the church explained, "This concept was revolutionary…no one was thinking of providing care to elder adults during the day. We were among the first in the country to make it happen."
In 1973, a group of community members from the Warwick Central Baptist Church identified a critical need to provide a safe space for elder adults to spend their day while also offering relief to their caregivers. They created the Central Geriatric Daycare Center (CGDC), one of the first in the country.
The program began in an old church building in Warwick Neck. To raise funds, volunteers held an art show featuring the works of local artists Maxwell Mays and Nelda Howell.
The late Bishop Covell, pastor of Warwick Central Baptist Church was able to hire a director, Roberta Merkle, to run the CGDC. Roberta quickly grew the program, introducing new ideas and expanding into new communities, creating Cornerstone Adult Services.
In 2009, Cornerstone joined Saint Elizabeth Community, ultimately offering adult day services in four locations: Warwick Neck where it began, Apponaug, Bristol and South Kingstown.
"None of this would have been possible without the tremendous efforts of Roberta and her staff over the years," praised Saint Elizabeth Community CEO Matt Trimble.
Today, the four sites fall under the capable hands of Jessica Gosselin, Director of Saint Elizabeth Adult Day Centers. She and the team at Saint Elizabeth Community are providing compassionate care with modern innovations.
The Memory Care Center in Warwick Neck now offers specialized care for adults experiencing early memory loss from Alzheimer's disease and dementia. The Apponaug Center focuses on the specific needs of elder adults facing challenges from motion and mobility disorders like Parkinson's.
For more information, visit stelizabethcommunity.org/adultday.
About Saint Elizabeth Community
Saint Elizabeth Community is a non-profit provider of care and services to seniors in Rhode Island, offering home health services, affordable apartments for seniors, adult day health centers, affordable assisted living, short term rehab, long term care and specialized memory care. For more information, visit stelizabethcommunity.org
https://stelizabethcommunity.org/