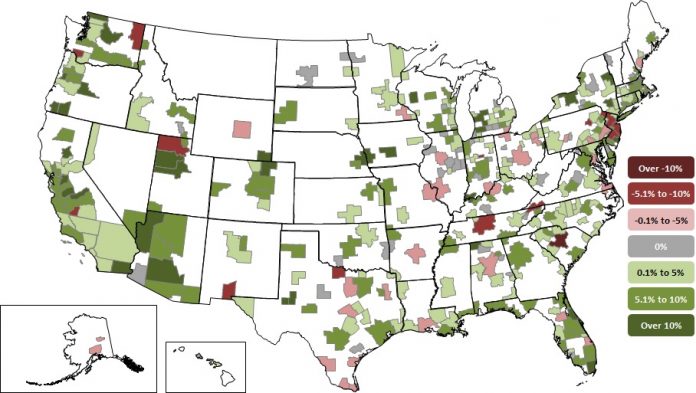 PROVIDENCE – Construction employment in the Providence-Warwick-Fall River metropolitan area increased 700 workers year over year in June, a 3 percent increase, to 25,100 workers, according to the Associated General Contractors of America Tuesday.
The Providence metro percentage increase ranked No. 209 in the country, tied with nearly 25 other metro areas.
The New Bedford metro area ranked No. 4 in the nation for percentage growth in construction employment in June at 18 percent, tied with the Leominster-Gardner, Mass., metro area. Construction employment in the New Bedford metro increased 500 workers to 3,300.
Nationally, construction employment increased in 272 out of 358 metro areas between June 2017 and June 2018, declined in 44 and was unchanged in 42.
The Merced, Calif., metro area ranked No. 1 for construction-employment percentage growth in June at 28 percent, increasing 700 workers year over year to 3,200, while the Houston-The Woodlands-Sugar Land, Texas, metro area added the most construction jobs during the past year, 19,300, which represented a 9 percent year-over-year increase.
The largest percentage decrease occurred in the Columbia, S.C., and Hanford-Corcoran, Calif., metro areas at 10 percent, while the Middlesex-Monmouth-Ocean, N.J, metro area lost the most jobs at 3,400.
According to AGCA officials, strong economic growth has helped to increase demand for construction projects nationwide.
"Tax and regulatory reform are helping put a lot of people into high-paying construction jobs across the country," said Stephen E. Sandherr, the association's CEO, in a statement. "Finding ways to quickly resolve trade disputes and encourage more people to work in construction will help put even more people to work."
Haley Hunt is a PBN contributing writer.