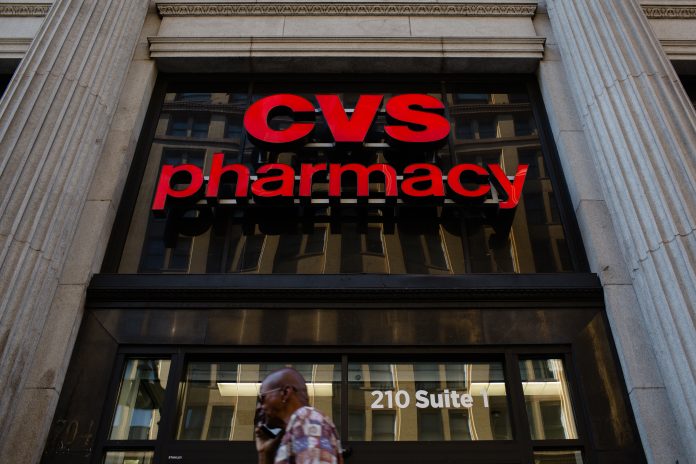 NEW YORK – CVS Health Corp., along with rival drugstores and drug distributors, rallied after a report that Amazon.com Inc. had shelved plans to sell drugs to hospitals and other businesses.
The report on Monday by CNBC said little about whether Amazon would ultimately enter the broader retail prescription-drug market, but the idea that the online giant might not take on one segment of the supply chain was enough to send shares of pharmacies and drug distributors surging. Bloomberg has previously reported that Amazon's health efforts have been mostly focused on selling basic medical supplies to physician offices and hospitals.
CVS rose as much as 8.7 percent, the biggest intraday gain since December 2011. CVS rose 4.23 percent by the end of trading. Drugstore chain Walgreens Boots Alliance Inc. was up as much as 6.8 percent. Neither company's main business is selling directly to hospitals or doctors.
Distributor Cardinal Health Inc. was up as much as 6.4 percent, and McKesson Corp. gained up to 5.5 percent.
Shares of drug-supply-chain stocks have been in a tizzy for months over what Amazon might do to enter the pharmacy or pharmaceutical-supply business.
Amazon declined to comment on the CNBC report.
"This is not necessarily an all-clear event for the supply chain," said Eric Coldwell, an analyst at Robert W. Baird & Co., in a note to clients. "Still, it's a good reminder that Amazon's supply chain ambitions might not be as big as feared or valuations indicate."
Hospitals and doctors' offices are an attractive target for Amazon Business, a marketplace launched in 2015 to help Amazon expand its reach into workplaces and factories by selling industrial and office products. Ownership of hospitals and doctor's offices is highly fragmented but the businesses need many of the same supplies. Amazon says that it can pool their buying power and share the savings, while improving distribution.
The market for hospital drugs is distinct from the retail prescription market, which is focused on generic and brand-name pills and other basic drugs bought at retail or mail-order pharmacies. Hospital drugs, by contrast, more often come in sterile injected formulations to allow nurses to administer them to sick patients.
Many hospitals already belong to group purchasing organizations that negotiate discounts on drugs and other products, and may be reluctant to uproot established purchasing procedures, given their need to maintain a surefire supply of life-sustaining drugs.
Robert Langreth and Spencer Soper are reporters for Bloomberg News.