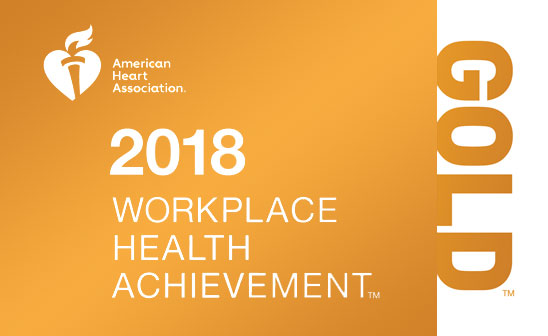 PROVIDENCE — The American Heart Association has named CVS Health Corp., Amgen Inc. and Southcoast Health System Inc. to its 2018 Workplace Health Achievement Index for their efforts to build healthy workplace cultures.
The American Heart Association created the index with its CEO Roundtable members, a leadership collaborative of more than 40 CEOs from some of America's largest companies who are committed to applying evidence-based approaches to improve their employees' overall health. The index uses science-based best practices to evaluate the overall quality and comprehensiveness of their workplace health programs. A unique feature of the index is that it calculates an average heart health score for employees of participating companies that securely submit aggregate health data.
More than 1,000 companies completed the index assessment this year and, of those companies, 75 percent received either gold, silver, or bronze recognition. Companies receive benchmarking reports, which allow them to identify potential areas of improvement so that they can advance their annual performance and recognition in the index and help their workforce move toward ideal heart health.
"We are thrilled to be recognized as a Gold level recipient for the second year in a row," said Kris Aimone, Wellbeing program manager at Southcoast Health. "This award is evidence of the effectiveness of our employee wellness program, HealthQuest, and the dedication of the wellness committee and leadership, who actively support and promote it, and our employees who engage and participate in it,"
"As a company that creates innovative human therapeutics, we are committed to providing resources and facilities for staff to pursue healthy lifestyles," said Tara Urban senior manager, corporate affairs of Amgen Rhode Island,
"Staff are rewarded for their participation in wellness programs. We provide access to fitness facilities or membership reimbursement, offer on-site nutrition services as well as healthy eating options, and hold many wellness and fitness-oriented events throughout the year," Urban said.
The index allows companies to measure the effectiveness of their workplace health programs as well as the overall heart health of their employees. The index also scores companies on the heart health of their employees based on Life's Simple 7 – the Association's scientifically validated definition of ideal heart health. According to the Nielsen 2016 Employee Health Survey, robust and comprehensive strategies for well-being are associated with positive impacts on employees' health.
Rob Borkowski is a PBN staff writer. Email him at Borkowski@PBN.com.