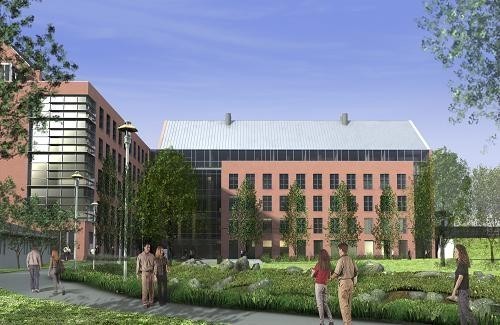 KINGSTON – The University of Rhode Island is breaking ground today for its Center for Biotechnology and Life Sciences, a project to which the state's leading biotech employer, Amgen Inc., has committed $1 million.
"Amgen has been a great partner and long-time supporter of our biotechnology initiatives," said Jeff Seemann, dean of the URI College of the Environment and Life Sciences, "from donating equipment to our biomanufacturing lab at the Providence campus to hosting interns and hiring our graduates."
The company's gift will support the construction of state-of-the-art laboratories in the new center – the largest academic building project in URI history – and to endow academic programs at the center.
"These laboratory suites are absolutely necessary for the next generation of scientists to learn the latest techniques and processes that will result in improved quality of life for millions of people," Kimball Hall, Amgen vice president and general manager of Rhode Island operations, said in a statement. "We are thrilled that URI is taking a lead in teaching the biological sciences, and we are excited to be a part of it."
The $60 million, 140,000-square-foot facility, slated for completion in 2009, also will feature classroom and lecture space, faculty offices and incubator space to aid in the commercialization of new technologies.
"Biotechnology has continued to grow as a significant element of our state's economy," Gov. Donald L. Carcieri said in a statement today. "With more than 4,700 people employed in this industry in Rhode Island, with $270 million in direct wages, and with employees generating approximately $16 million in income and sales tax each year, the biotech industry is a major driver of our economy. This new Center will help prepare our students for the future."
"The Center for Biotechnology will provide our students with the learning environment that will allow them to become leaders in growing and emerging disciplines," said URI President Robert L. Carothers, "and it will create an environment in which our faculty can conduct research that will lead to scientific advances to serve America."
Payette Associates of Boston is the project architect and Gilbane Building Co. of Providence will serve as construction manager for the new building, which will include a staircase in the shape of a DNA double helix.
It will serve as the anchor of the North District of URI's Kingston Campus, which also will house new buildings for the pharmacy, nursing and chemistry programs, the university said.
The project's public-private financing includes a $50 million state bond, approved by voters in 2004, and $10 million in donations.
Additional information is available at www.uri.edu/news.