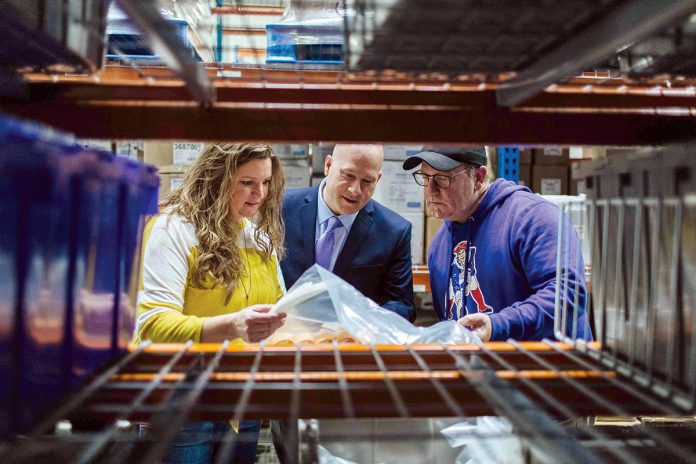 Amgen Rhode Island
Exporting Excellence, 2019 PBN Manufacturing Awards
---
While Amgen Inc.'s Rhode Island operation usually ships most of its biologic products to the drug manufacturer's processing plant in Puerto Rico, international shipments have grown steadily in recent years, creating new challenges for Amgen.
As Amgen Rhode Island's product mix – the active ingredients for myriad Amgen pharmaceuticals – and its volume have increased, the company has needed to export more products for drug finishing and filling at locations in Ireland, Germany, Italy and Japan.
"Amgen Rhode Island exports have increased from 26 percent of actual shipments in 2017 to 33 percent in 2018," said Supply Chain Director David Seaback. "We expect to see a continuing trend upwards over the next several years."
More exports bring complications, which Amgen said it has worked hard to overcome.
Under traditional procedures in which Transportation Security Administration officials open and inspect every shipment, Amgen's highly regulated, pristine and frozen biologics face the risks of contamination, deterioration and delays.
Instead, with support and training from the TSA, Amgen Rhode Island soon will become a certified cargo-screening facility. As a result, products from West Greenwich "will move through the supply chain with reduced lead times at greater ease," Seaback said. "We [will] have six Amgen employees complete the TSA certification … who will monitor the packing and sealing of products in an area within the facility that will be cordoned off."
'Amgen Rhode Island exports have increased from 26 percent of actual shipments in 2017 to 33 percent in 2018.'
DAVID SEABACK, Amgen Rhode Island supply chain director
Currently transporting products by air and by sea, Amgen Rhode Island is redirecting more of its shipments to sea routes because it's most cost-effective. Such a move sets Amgen apart from its competition in the frozen biologic-products market, Seaback said, adding that products and bulk shipments are subject to sophisticated temperature controls and validations throughout the distribution process.
Amgen's 75-acre West Greenwich campus, where the company has invested $1.5 billion, manufactures Enbrel and several other commercial products.
In 2018, Amgen Rhode Island produced nearly 2 metric tons of products at a 100 percent production-lot success rate across 11 products, according to Thomas Seewoester, site vice president of operations.
Through lean manufacturing, productivity in shipping/receiving and in raw material sampling improved by 19 percent and 63 percent, respectively, from 2017 to 2018. Last year, Amgen Rhode Island – one of more than 60 Amgen facilities worldwide – earned Amgen's best-plant award for the fourth time since 2007. "The process is driven by very hard metrics that we must meet … safety, productivity, defects," said Seewoester. "The competition for the best-plant award is very stiff."
Amgen, based in Thousand Oaks, Calif., had annual revenue of $22.8 billion companywide and incurred $3.6 billion in research-and-development expenses in 2017, the latest year for which such data is available. For the fifth year, Amgen was named in 2018 to the Dow Jones Sustainability World Index, which measures environmental, social and governance criteria, with a focus on long-term shareholder value.
The West Greenwich facility is constructing a next-generation biomanufacturing plant. At about 120,000 square feet, the plant will be built in half the traditional construction time at about 25 percent and 50 percent of a traditional plant's capital cost and manufacturing cost, respectively. It's also expected to use less water and energy and produce fewer carbon emissions. Amgen projects that it will add 150 skilled employees.
Recruiting individuals with undergraduate or master's degrees, Amgen Rhode Island often hires people who served internships.
Building close ties with Brown and Bryant universities, the University of Rhode Island and Worcester Polytechnic Institute has been crucial in finding talent, Seewoester said.
The company is also trying to reach younger students, too.
The Amgen Biotech Experience, through which Amgen employees bring professional-grade equipment to Rhode Island high schools, inspires students who "never thought how engaging science could be," said Tara Urban, Amgen senior manager of corporate affairs.