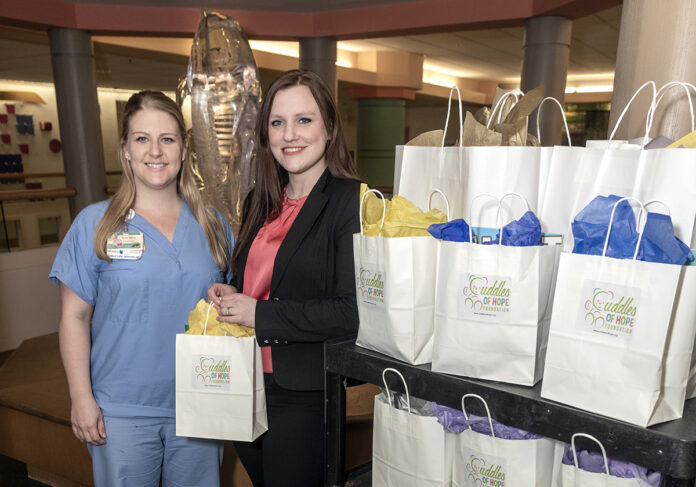 PBN BUSINESS WOMEN AWARDS 2020 ACHIEVEMENT HONOREE: Amy Antone | Cuddles of Hope Foundation
---
WHEN YOU RUN A SUCCESSFUL nonprofit that provides gift bags for children who are in a hospital or in a shelter, you end up with a lot of stuffed animals.
Where does one keep them all?
"In my garage, any room I can find," North Providence resident Amy Antone said. "We love having them around because it reminds us of the gift bags," and the feelings of comfort and joy they bring to kids going through a scary situation.
With help from family, Antone and the Cuddles of Hope Foundation regularly deliver gift bags that include a stuffed animal, crayons and a coloring book to patients at Hasbro Children's Hospital. Each one also has a poem introducing their new stuffed friend.
Though she had no idea how to go about starting her own nonprofit, Antone was no stranger to volunteer work. Her desire to help others and give back was already present, having volunteered for the Multiple Sclerosis Society, Make a Wish Foundation, Special Olympics Massachusetts and serving as board member for a local parent-teacher organization.
A senior compliance consultant for CVS Health Corp., Antone established Cuddles of Hope in her off hours, Antone's husband, Nathan, said. Those off hours are already full, by the way – in addition to having a full-time career, being an MBA student and the mother of two small children but she made it work, he said.
Though Antone cannot see families at the hospital due to federal privacy and security rules, nurses at Hasbro tell Antone that the bags are received with great excitement by the children arriving there as patients.
"These bags bring a smile to the faces of both 3-year-olds and 15-year-olds," said Kerri Baker, a child-life specialist at Hasbro. "[They] provide comfort and normalcy in an often-challenging moment in their lives."
Reaching out to shelters and hospitals is another task that helps make Cuddles of Hope run. Recently, the organization is expanding its work beyond the Ocean State.
Antone is in the initial stages of expanding foundation efforts into Fall River and Boston hospitals and shelters, with some help from relatives. She aims to eventually take the foundation nationwide, enriching hospital and shelter experiences for families across the U.S.
"Almost everything has changed," since the early days of the foundation, Antone said. "We grew from just stuffed animals to gift bags. Now it's bigger than we thought it would be."

Want to share this story? Click Here to purchase a link that allows anyone to read it on any device whether or not they are a subscriber.