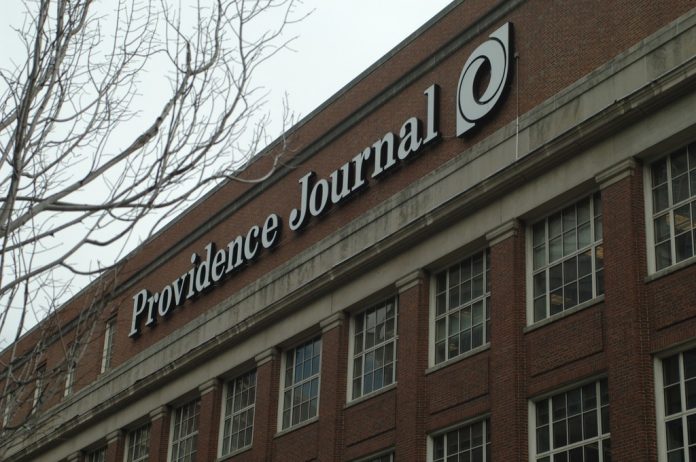 PROVIDENCE – The round of layoffs Thursday from GateHouse Media, the publishing arm of New Media Group Inc., included six Providence Journal editorial staff, at least three Fall River Herald News staff and a staffer for the Taunton Gazette. The Worcester Business Journal reported that layoffs also affected the Newport Daily News and the New Bedford Standard-Times.
Business Insider reported that at least 69 employees nationwide were affected by this round of layoffs, the second round of staff reductions of the year. Company executives told The Poynter Insitute that the moves would affect hundreds of employees at the company.
The Providence Newspaper Guild wasn't immediately available for comment Friday.
In an statement posted by the Providence Journal Friday, the paper said "Like many newspapers in cities and towns across the country, The Journal has been wounded by shrinking advertising markets both locally and nationally. And The Journal, like many other newspapers, has done more with less, and increasingly sought out the community's support in storytelling. Newspapers across the country have taken steps to minimize the effects of these financial pressures. Perhaps those efforts were done too well."
According to company filings, stockholders of New Media approved the continuation of a $100 million stock buyback Thursday, amid the layoff campaign.
A total count of the layoffs at GateHouse properties nationwide wasn't available Friday.
However, the Boston Business Journal reported Friday morning that stockholders rejected a $1.7 million compensation plan for GateHouse Media CEO and New Media Investment Group Chief Operating Officer Kirk Davis. Davis received $1.7 million in pay in 2018.
The company's stock has declined roughly 45% year over year Friday, despite more than $90 million in dividends paid in 2018 and $23.2 million in dividends in the first quarter of 2019.
"As many of you are aware, we made sizeable reductions to staff yesterday. This included many newsroom staff," said Davis in a statement to GateHouse staff Friday. "I don't take these reductions lightly; many committed colleagues, who played important roles in our company, were impacted. A painful reality is that difficult decisions must be made to enable the company to invest in its future."
Despite Davis' statement Friday acknowledging the breadth of the layoffs in the company, New Media CEO Michael E. Reed told Business Insider Thursday that the cuts were small and "immaterial."
Davis also laid out the company's strategy going forward, calling for more company acceleration and streamlining, "To build a sustainable business model for quality, local journalism, we must accelerate these results – which requires continued and significant investment in our growth opportunities. To fund these investments and keep our cost structure aligned with current revenue, we need to structurally reduce our cost base. Already underway is a major review of (and negotiations with) our supply chain partners to identify and capture meaningful savings."
Davis also added that the company is hiring 30 investigative reporters to embed in local newsrooms.
"Let me be clear – local journalism and community leadership remain core to our growth plan," Davis added.
New Media is overseen by Fortress Investment Group LLC, the investment management firm.
New Media paid a combined $24.3 million to Fortress in 2018, including $10.7 million in management fees, $11.1 million in incentive compensation and $2.5 million of expense reimbursement.
At the end of 2018, Blackrock Inc. owned 14.7% of New Media, The Vanguard Group Inc. 10%, Dimensional Fund Advisors LP 7.4%, Franklin Mutual Advisers LLC 5.3% and Leon G. Cooperman 4.2%. Fortress and its affiliates owned approximately 1.1% of the company at the end of 2018.
The company said that as of the end of December it owned and published 146 daily newspapers and 331 community publications.
New Media reported that it incurred costs of $15 million in integration and reorganization costs in 2018, compared with $8.9 million in such costs in 2017.
The company reported an $18.2 million profit in 2018 on $1.5 billion revenue.
The company owns and operates several local publications through GateHouse Media, including the Providence Journal, Newport Daily News, Fall River Herald News, Taunton Daily Gazette and the New Bedford Standard-Times.
Chris Bergenheim is the PBN web editor. You may reach him at Bergenheim@PBN.com.