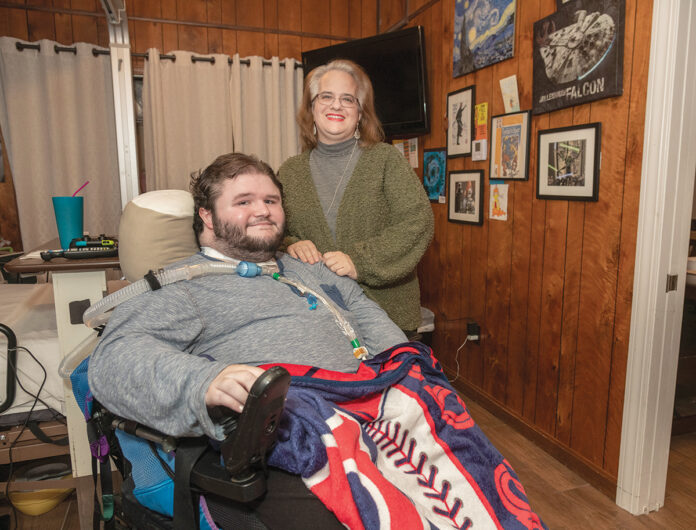 Like most kids, Zach Quinn and Corinna Calise lived at home with their families for their entire lives. But the two, both of whom are now young adults, were not typical children.
Calise, 20, of Cranston, has spinal muscular atrophy, and Quinn, 21, who lives in Warwick, has Duchenne muscular dystrophy. Both conditions cause progressive muscle degeneration.
Their health has deteriorated to the point that now Quinn and Calise breathe with the help of ventilators and tracheotomies. And they are fed through tubes.
They require medical supervision around the clock, which they've had their whole lives thanks to Katie Beckett, a Medicaid program that allows children with profound medical needs to live at home by covering the cost of nursing.
At age 19, when Katie Beckett eligibility ends, children such as Calise and Quinn are covered by a separate Medicaid program until they turn 21.
Now, though, their families and about 15 others in Rhode Island are finding that there is no standard procedure regulating the transition from pediatric to adult coverage.
"If all you did was have a birthday, you didn't magically get better, so why are you all of a sudden eligible for significantly less," said Lee-Ann Quinn, Zach's mother.
While it's not yet clear if families will receive less, Michelle Calise, Corinna's mother, is among those bracing for the prospect of a cut to their children's ­coverage.
'We just want a coordination of benefits, so there's a continuation of care.'
MICHELLE CALISE, mother of a woman who needs constant medical care
During a meeting with the R.I. Executive Office of Health and Human Services and the R.I. Department of Behavioral Health, Developmental Disabilities and Hospitals recently, the Quinns were told Zach's benefits will be extended long-term through EOHHS, ending a monthslong period of uncertainty.
When Zach Quinn turned 21 in August, his family was told that he qualifies for a Medicaid tier that provides about $18,000 per quarter, an amount that would decrease his nursing hours from 16 a day to 25 per week.
"Twenty-five hours a week does not even give my husband or myself a chance to go to work," Lee-Ann Quinn said.
She estimates that her son requires about $193,000 a year to maintain the services he's received his entire life.
Michelle Calise said although she's not yet heard details on potential changes to her daughter's coverage, she is nervous.
"We just want a coordination of benefits, so there's a continuation of care, not a stoppage of care," she said.
EOHHS, the state agency that oversees coverage for children until they transition to other programs under the RBHDDH, maintains it is working with each family on a solution.
"Nothing's changing until the state meets with these families individually to create a care plan," said EOHHS spokesman David Levesque, adding that Medicaid is also in contact with the families. "The folks who have come to us with these concerns will continue to receive the services they receive right now" until a plan of action is worked out.
A number of options exist through the adult Medicaid program, including nursing home care, home and community-based care, or services provided to people with developmental disabilities, Levesque said.
When asked about the possibility of parents having to move grown children into nursing homes, Levesque referred to an EOHHS statement released in response to concerns.
"The state is focused on continuing to prioritize and strengthen opportunities for Rhode Island young adults to seamlessly transition into the adult systems of care" and "supporting individuals entering into the adult systems of care to live integrated and fulfilling lives," the statement reads.
It's not yet clear whether the transition to adult coverage could mean a move into a hospital or nursing home in some instances.
The prospect is a concern for families, but so far it hasn't happened, said Ashley Sadlier, director of government affairs for Bayada Home Health Care, a Philadelphia-based home health agency with offices in R.I.
In addition to hundreds of other clients, Bayada cares for up to eight children in the Ocean State who need constant nursing care funded through BHDDH. The state's coverage transition process, Sadlier said, seems to be intended for children with fewer needs.
"It wasn't built to accommodate all of these kids who are coming home with advanced technology," she said. "We're bringing kids home who may not have survived 10 years ago. [Longer life expectancy] is so attainable at home now with certain diagnoses and support. The system hasn't been able to support it or keep up with demands."
Despite her medical challenges, Corinna Calise graduated from the Community College of Rhode Island and is now working on a degree in psychology and social work from Rhode Island College. Still, she's dependent on help 24 hours a day to make sure she can breathe properly and perform tasks as mundane as brushing her teeth, her mother said.
Michelle Calise insisted she's had little success with getting answers on the future of her daughter's coverage from the state. She said she fears much of the burden of Corinna's care will fall to her and her husband, jeopardizing their jobs.
"We can definitely do better than this, it's just a matter of putting our heads together and working collaboratively," Sadlier said.
(Updates 22nd graph to clarify on additional clients.)
Elizabeth Graham is a PBN staff writer. Contact her at Graham@PBN.com.

Want to share this story? Click Here to purchase a link that allows anyone to read it on any device whether or not they are a subscriber.