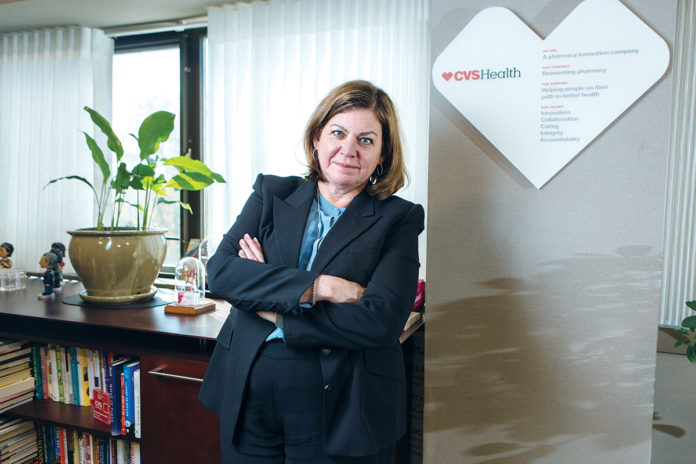 Lisa Bisaccia, executive vice president and chief human resources officer for CVS Health, is responsible for the management of all human resources functions for more than 240,000 employees across the United States. She was part of the leadership team that made the groundbreaking decision to stop selling tobacco in CVS stores. Bisaccia is also involved with projects designed to help her colleagues and their families manage and improve their health, and in helping CVS Health promote diversity and inclusion.
Is Rhode Island a good place to grow jobs? Why? Rhode Island is a state undergoing change and on the move. Under Gov. [Gina M.] Raimondo's leadership the state has made significant investments in economic development, job training, infrastructure and education. These structural investments help grow existing businesses and attract new ones, which is critical to job growth. Global businesses [such as] General Electric and Johnson & Johnson have moved operations here, while other companies [such as] CVS Health and Virgin Pulse are expanding their capabilities, which adds to the state's employment levels. It's an exciting time for Rhode Island, and these investments are beginning to pay off.
If government could do one thing to help businesses grow jobs, what would it be and why? Corporate tax reform is a timely topic and one area where government [can] help the private sector grow new jobs. Every year, CVS Health pays one of the highest effective corporate tax rates in the country. In fact, last year CVS Health paid nearly 1 percent of all corporate taxes collected in the United States. Meaningfully reducing the corporate tax rate … [helps] create jobs, encourage innovation and grow the economy. With a lower tax burden, CVS Health could open new retail pharmacy locations and more MinuteClinics, and invest in new technologies to improve health outcomes and access.
JOBS
2016: 7,699
2017: 8,027
In which industry do you see the greatest potential for job growth in Rhode Island and why? I think IT [information technology] and health care will continue to help fuel job growth across the state. The ongoing advancements in technology will continue to drive demand for software developers, computer systems analysts and application designers. At the same time, an aging American population will continue to stress an already beleaguered health care system, and that will increase the need for more primary care physicians, nurse practitioners, pharmacists and home-health aides.
What do you see as the biggest obstacle to adding jobs in Rhode Island? There is a widening skills gap in the U.S. that remains a significant concern for many businesses, and not just in Rhode Island. Companies across the country are competing globally for highly skilled talent. In health care, for example, it's projected that 5.6 million new jobs will be created by 2020 to meet the growing demand for services [that] may lead to a sizeable shortage in pharmacists and pharmacy technicians, nurse practitioners, and physician assistants – the very highly skilled workers we need to compete and grow our business.
What would you suggest for addressing this challenge? The good news is that Rhode Island is responding to these challenges in a way that is creating opportunity to grow a skilled workforce. The establishment of the Office of Innovation puts the state on track to be the first state in America to offer computer science in every school and in every community. At the same time, Rhode Island is the only state on the East Coast to offer tuition-free community college to every student. CVS Health has supported these measures, and has partnered with the R.I. Department of Labor and Training on establishing apprenticeships as another powerful tool for employee training and job growth. To date, we've hired 18 apprentices into our pharmacy-technician program in Rhode Island, and we have plans to expand the occupations available here to include store management. This is part of a larger five-year goal to hire 5,000 new apprentices across 18 states.
What's the most important attribute a business leader needs to grow their business and jobs? Innovation is critically important to maintaining America's competitive edge around the world, and for sustaining healthy businesses and a growing economy. By continuing to drive innovation, we can create jobs, improve productivity and drive wage growth. In other words, innovation boosts profits and helps expand the pie shared by companies and its workers. At CVS Health, we continue to foster a culture where change is embraced and where innovation can flourish.
When it comes to tackling health care's ongoing challenges, there's no question the country is going to need out-of-the-box thinking. That's required our company to pursue new workplace strategies to make sure our 240,000 colleagues understand the sea change in our industry.