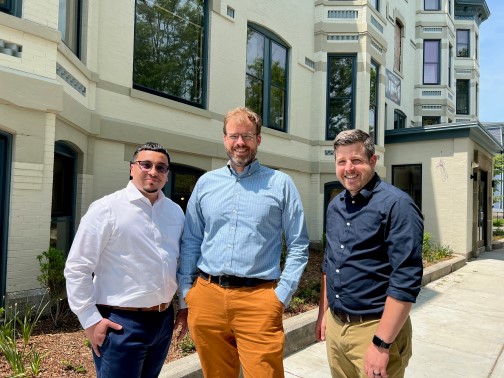 For over 35 years The Armory Revival Company and Armory Management Company have been leaders in historic preservation and neighborhood revitalization on the West Side of Providence. "We are committed to the revitalization of buildings and places and believe that repairing our communities requires the work of many hands. With an eye towards continuing our work for decades to come, we are delighted to announce the promotion of Seth Zeren, Edgar Garzon, and Tim Viveiros to Principal roles at Armory Management Company," said Mark Van Noppen, co-founder and President.
Since joining Armory in 2016, Seth Zeren, has strengthend Armory's commercial leasing and new development pipeline. His experience in urban planning and design promotes the creation of exceptional value in under utilized properties. As VP for Development, Seth will focus on executing AMC's development pipeline of over 100 apartments and commercial spaces across several sites in the City. Seth's customer-focused placemaking work has resulted in a 97% occupancy rate across AMC's 300,000 square foot commercial portfolio. Seth is a member of the Congress for the New Urbanism, outgoing Chair of the Board of Directors for Nuestro Mundo Public Charter School, and serves on the state Building Code Standards Committee. Seth has a BA from Williams College and a Masters in Environmental Management from Yale University.
Edgar Garzon has over eight years of experience in real estate accounting and finance at multiple real estate companies. Edgar brings a deep knowledge of accounting and financial management with a passion for great development projects and an eye always on the bottom line. As VP for Finance, Edgar leads our in-house financial team across property accounting, construction accounting, asset management and planning. In his spare time, he is a chess enthusiast and an active member of the National Intercollegiate and Rhode Island Soccer Officials Associations. Edgar received a B.A. in Economics and a B.S. in Finance from Rhode Island College.
As VP for Construction Services, Tim Viveiros leads Armory's in-house construction team for self-perform and third-party projects. From managing high-rise construction to historic rehabilitation, Tim is a flexible and diligent problem solver in construction and real estate operations. He manages a large network of subcontractors and leads contractor negotiations and client relationships. Tim supports property management and operations for complex capital projects and is in-house IT manager. Tim is a rugby and ski enthusiast and has a BA in Finance from Franklin Pierce University.
Mark Van Noppen continues his role as President and Managing Partner of AMC. Susan Reis, with 32-years of experience at AMC, continues as Chief Operating Officer and VP for Property Management. Mark is co-founder of The Armory Revival Company with partners BJ Dupre and H. LeBaron Preston. TARC is currently building a 59-unit, low income, net zero building in Tiverton and, with AMC as manager, is developing Waterfall, a community of twenty-six mixed-income homes in Providence. In addition to its own portfolio, AMC manages property for The Armory Revival Company, its principals, and others.