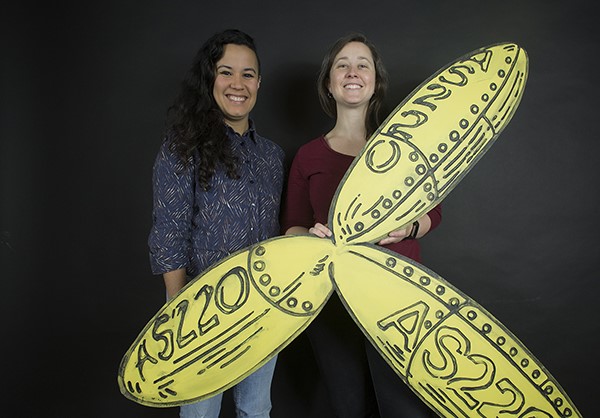 PROVIDENCE – The leadership duo of Shey Rivera and Shauna Duffy, which co-led AS220 for the past three years, will dissolve at the end of the year with Rivera's departure from the group and Duffy's promotion to executive director, a new role for the group, according to the Providence-based nonprofit arts group Tuesday evening.
Currently serving as the nonprofit's managing director, Duffy will assume the role of executive director effective Jan. 1. The appointment was unanimously voted on by the AS220 board of directors.
"Things were going really well under a co-directorship" of Rivera and Duffy, said AS220 Communications Director Dave Dvorchak to PBN Wednesday morning. "With Shey's decision to leave, the board wanted to look at how we're structured and fulfilling [administrative] needs that weren't being met."
In her role as managing director, said Dvorchak, Duffy was responsible for "everything from high-level management and renovations to more mundane stuff like cutting a check."
In this new position, which was formed following Rivera's decision to leave the group, Duffy will be responsible for big picture management, including leadership and strategy.
Duffy, who has served in her current role since 2015 and as treasurer on the group's board of directors for a decade, previously worked for Kahn, Litwin, Renza & Co. Ltd. in Providence as an audit manager in the firm's nonprofit services department. A licensed public accountant since 2008, she holds a bachelor's degree from Brown University and an MBA in global business leadership from Johnson & Wales University.
"As someone born and raised in Rhode Island, AS220 has been part of my life for over twenty years," said Duffy in a statement, noting that she became involved with AS220 by attending shows in her teens and volunteering with the nonprofit while studying at Brown.
"I am excited to be named as AS220's first-ever executive director. Each step I take, personally and professionally, is made with the desire to serve Providence's arts community," she added.
With the departure of Rivera, Dvorchak explained, a three-person executive leadership team comprised of current AS220 employees will undertake some of the day-to-day administrative tasks – in particular, he cited Marina Balko, who was promoted to director of operations effective Jan. 1.
That remaining team members are Ruth Harvey, who will serve as director of development, also effective Jan. 1 and Anjel Newmann, director of programs. Newmann's promotion date has yet to be disclosed, said Dvorchak, because the group has yet to fill her current position, youth director.
Rivera, whose departure is effective Dec. 31, chose to leave AS220 to pursue personal endeavors including travel and artistic pursuits, following an eight-year tenure – three of which were spent in the co-leadership function with Duffy.
"I've had a beautiful and transformative experience at AS220 in the past 8 years, stewarding community vision, collaborating on projects, meeting and working with amazing people, and evolving as an artist," stated Rivera.
Dvorchak noted the group will not seek to refill the position of artistic director. Instead, Newmann, the soon-to-be-promoted director of programs, will be responsible for fulfilling AS220's artistic mission.
Emily Gowdey-Backus is a staff writer for PBN. You can follow her on Twitter @FlashGowdey or contact her via email, gowdey-backus@pbn.com.