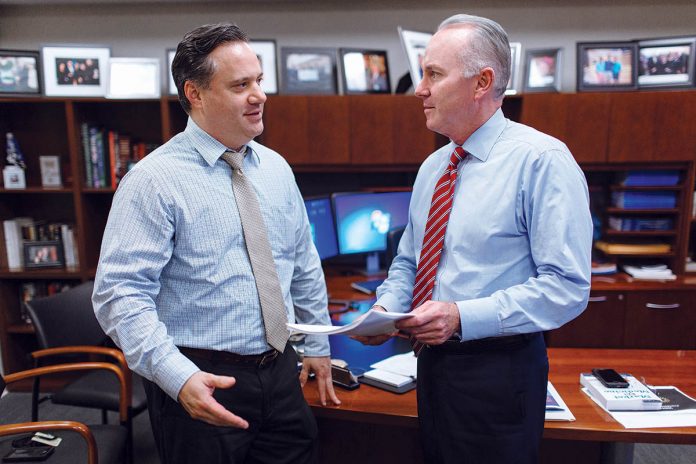 Business Excellence Awards 2018
Corporate citizenship: Dr. Timothy J. Babineau, president and CEO, Lifespan Corp.
---
When it comes to creating a career, sometimes family influence is the most powerful of all. For Dr. Timothy J. Babineau, president and CEO of Lifespan Corp. since 2012, that influence included happily carrying his father's medical bag during house calls, back in the day when such things existed.
It's also where Babineau saw firsthand the power of community service and helping others.
"I remember one instance when I was sitting at the table with a large, extended family of French Canadians," Babineau said. "We were playing gin rummy to keep me occupied while my father was in the bedroom of his patient, who was passing away.
"When he came out, all the ladies and men hugged my dad and thanked him for helping," he continued. "As a young boy, I was confused as to why they thanked him, considering his patient died. I get it now."
Babineau just marked 10 years since coming to Rhode Island, and "looking back, some of the most gratifying moments have been my involvement in the community."
Prior to his appointment leading Lifespan, he'd served as president and CEO of Rhode Island Hospital and The Miriam Hospital and, before coming to Rhode Island in 2008, was senior vice president and chief medical officer for the University of Maryland Medical Center and School of Medicine in Baltimore.
His community involvement mirrors Lifespan's, with the company's myriad activities in the state. Babineau is proud of them all, he said, but a few "rise to the top, such as the Year-Up program. … The work they do with youth and giving them jobs is extraordinary."
That program this year worked with more than 60 interns from neighborhoods around Rhode Island Hospital, and Lifespan hired most of them upon completing the program, Babineau said.
"Nearly 20 initiatives, such as Lifespan's mentoring and youth-employment programs, are intended to mitigate the effects of social determinants on health," he said. "They not only educate young people about healthy behaviors but also provide examples of ways in which a young person can find a path to improved income, and thus a healthier life situation in general."
He said raising the economic status of young people in poverty strengthens the state's workforce and benefits Rhode Island by "creating jobs and adding to income tax coffers. Most importantly, the programs improve the health and well-being of populations across our service areas."
According to the Lifespan website, under Babineau's leadership, Lifespan contributes an average of $900,000 in partnerships and sponsorships annually. Earlier this year, the company became the co-sponsor of the Providence JUMP Bike Share System and uses a Prescribe a Bike program to benefit patients in need of transportation options and better access to physical-fitness opportunities.
Lifespan's hospitals and programs are designed to care for the sick. But the company also has a slew of preventive measures in the community to keep people healthy, Babineau says, including oral health screenings for children; a demonstration kitchen to teach people how to cook healthy and affordable meals; a health-literacy program; smoking-cessation programs; and Bradley Hospital's Parenting Matters and Temas Familiares (Spanish Parenting Matters).
Babineau was the last of seven children in a family that had helping others in its DNA, he says. And now with two teenage girls of his own, that legacy of community involvement continues.
"There's a constant reminder to my girls about how fortunate we are as a family and how important it is to give back," he said. "My oldest, Kate, has volunteered two summers in a row with the Lifespan Community Health Institute. My youngest, Marina, has been actively involved in food and clothing drives in the Barrington public school system."
Doing these things, he says, is not so much an afterthought as a way of life.
"It's how I was raised," Babineau said, "so it's how I try to raise my daughters."

Want to share this story? Click Here to purchase a link that allows anyone to read it on any device whether or not they are a subscriber.