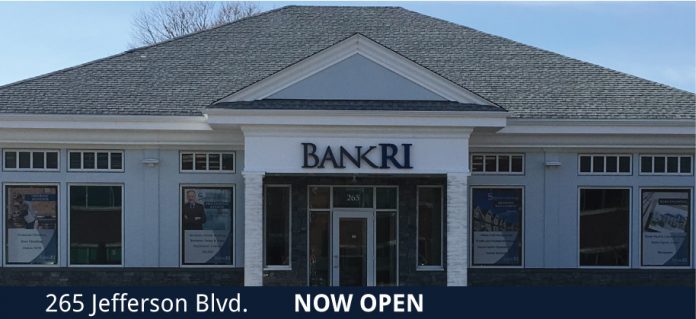 PROVIDENCE – Brookline Bancorp Inc., the Boston-based parent company of Bank Rhode Island, on Wednesday reported a record $20.8 million profit in the second quarter ended June 30.
That was up 40 percent from net income of $14.9 million in the second quarter of 2017.
"Brookline Bancorp continued to generate record earnings in the quarter while maintaining our commitment to reinvest in the franchise," Paul Perrault, president and CEO, said in a statement.
"We successfully completed the branch consolidation, conversion and system integration of First Commons Bank on June 1, thanks to the hard work of our experienced team," Perrault said. "During the quarter, we opened banking offices in Wakefield and Braintree [both in Massachusetts], expanding our boutique style of commercial banking to these markets."
Bank Rhode Island ranked fifth-largest in the state by total deposits, with $1.6 billion and 20 branches as of last year, according to federal statistics. Brookline Bancorp operates as a holding company for Bank Rhode Island, Brookline Bank and First Ipswich Bank.
The company's stock earnings were 26 cents per diluted share in the second quarter, compared with 20 cents per diluted share a year earlier.
Assets grew to $7.3 billion in the quarter, up from $6.7 billion, or 9.4 percent, from a year earlier.
Deposits rose by $488.9 million year over year to $5.2 billion in the quarter, up from $4.7 billion, or 10.4 percent, from a year earlier.
Revenues totaled $68.2 million in the quarter, up from $60.1 million, or 13.6 percent, from a year earlier. That consisted of $62.7 million in net interest income and $5.5 million in non-interest income.
The company's net interest margin rose to 3.64 percent in the quarter, up five basis points from a year earlier.
The company's board of directors approved a dividend of 10 cents per share for the quarter, to be paid Aug. 24 to stockholders of record on Aug. 10.
Scott Blake is a PBN staff writer. Email him at Blake@pbn.com.