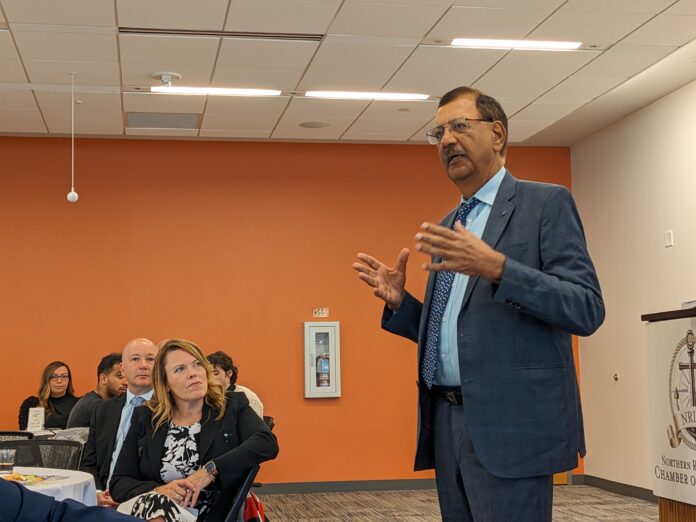 SMITHFIELD – Early in his career, Jay Sidhu didn't set out with C-suite aspirations, he said – but he was guided by a vision and set of values that he largely credits for taking him to that role.
"I never had a goal to be a CEO," Sidhu said, "but I had a goal that whatever job I had, I would do it better than anyone had ever expected."
Sidhu, CEO of Customers Bancorp, Inc. and executive chairman of Customers Bank, shared these values and his path to leadership at the Northern Rhode Island Chamber of Commerce's "Emerging Leaders: Leadership Lessons Breakfast," held Thursday morning at Bryant University. PBN was an event sponsor.
In addition to having a vision or purpose and going beyond expectations, Sidhu also credited his success to authenticity and remaining "passionate about continuous learning and giving back to others."
Sidhu sees his position as an opportunity to give back to those who took a chance on him, he said: When Sidhu moved from India to the U.S., for instance, he didn't have the money to cover college application fees, and wrote letters to various universities asking for their support with a promise that he would someday pay it back.
Wilkes University in Pennsylvania took a chance on him, and Sidhu went on to receive an MBA. Staying true to the pledge made in that original correspondence, Sidhu later endowed a business school at Wilkes, which opened in 2004.
By the time he attended Wilkes, Sidhu was used to taking chances: He had previously hitchhiked across the Middle East and Europe with $100 and a goal of reaching London to pay back an early investment.
Sidhu recalled that he ended that trip with $106, and in the process received his best education to date, surpassing even what he learned at Harvard Business School's Leadership Course for CEOs. That value came from meeting people across a range of backgrounds, Sidhu said, and leveraging challenges as an opportunity to develop stress management skills and confidence.
The journey also taught him that a goal "may be tough, but it's not impossible, as long as you've done an authentic self-assessment," Sidhu said.
And earlier in his career, Sidhu and his team took up a tactic of buying "banks that were good markets, but lousy performers" and turning them around.
In this process, Sidhu also sought to create "a company with a culture of authenticity," he said, where "you can say anything you want to say, you can speak up … Leadership is all about creating an environment for mutual trust or success."
Before joining Customers Bank, Sidhu worked as CEO and chairman at Sovereign Bancorp, Inc, and during that time grew the company's market cap from $12 million to nearly $12 billion. Sidhu is also a published author, detailing his journy through life and business in a memoir titled "Never Ever, Ever Give Up."
In the next five years, Sidhu defined one of his major goals as making a positive impact on the lives of at least 5,000 people — a task that may involve reaching out to 500,000 people to find those he can help.
"You must give back to the community," Sidhu said, "because happiness and satisfaction, a balanced life, is also very, very critical … And the purpose of life is really to be grateful of what you have to give back to others."
Jacquelyn Voghel is a PBN staff writer. You may reach her at Voghel@PBN.com.

Want to share this story? Click Here to purchase a link that allows anyone to read it on any device whether or not they are a subscriber.