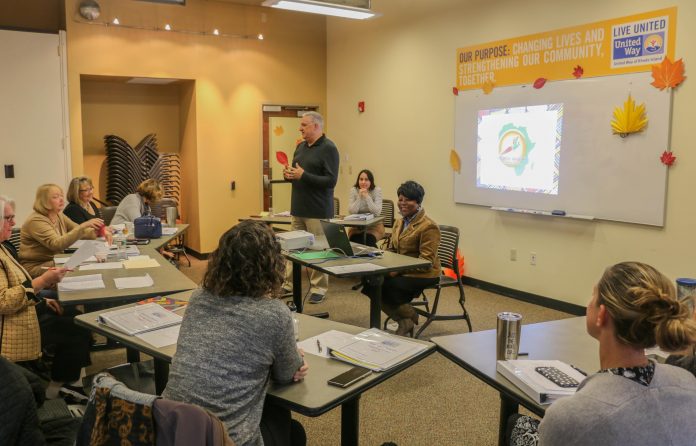 Providence, R.I. (February 20, 2018) Following the success and positive feedback of their inaugural Executive Director Learning Circle Series in 2017, United Way of Rhode Island (UWRI) and BankNewport have partnered again, selecting 10 local leaders to participate in the educational program. To help strengthen the state's nonprofit sector, BankNewport has committed $40,000 per year for three years.
Developed specifically for executive directors of Rhode Island-based nonprofits with annual budgets less than $1 million, the series began on January 19 and consists of 11 sessions. Each session is designed to help organizations increase their capacity to serve more Rhode Islanders, and improve the delivery of their services. The group meets on the third Friday of each month at UWRI's Providence headquarters.
"BankNewport is extremely proud of its history of partnership with United Way, and we commend their unique ability to bring people together to solve challenges and to serve our neighbors," stated Sandra J. Pattie, President and Chief Executive Officer for BankNewport. "The Bank's funding will provide the nonprofit community with coaching, professional development and technical assistance designed to encourage greater collaboration and strengthen the essential services they deliver to their clients and communities."
"At United Way we believe that positive and lasting change comes from forming partnerships and working together," said Anthony Maione, President and CEO of United Way of Rhode Island. "We are grateful to BankNewport for making this opportunity available so that some of the hardest working leaders in our community can deepen their skills, improve their effectiveness and serve more people."
The Executive Director Learning Circle is led by facilitator Michael Fournier, a retired nonprofit leader with nearly four decades of service. Michael has also provided volunteer consulting to grassroots nonprofits in Rhode Island and southeast Massachusetts for more than 20 years with a focus on executive coaching. He says, "This series is such a powerful and meaningful opportunity to engage with and support the local nonprofit executive directors who are making such an impact in our community."
The Executive Director Learning Circle focuses on practical experiences and discussions in the areas of strategy development and implementation, board development and engagement, staffing and alignment to priorities, comprehensive fund development, and risk management/emergency preparedness. The executive directors and their respective organizations selected for the second series are:
Gail Ahlers, Empowerment Factor, Christopher Butler, Insight, Maury Davitt, The John P. Burke Memorial Fund, Carlon D. Howard, Breakthrough Providence, Helene Miller, Partnership for Providence Parks, Kari Nel Lang, West Broadway Neighborhood Association,Kelly Nevins, Women's Fund of Rhode Island, Aline Binyungu Nzigire, WRC Women's Refugee Care, Toni Marie Roderick, Mount Hope Learning Center, Elana Rosenberg, Youth Pride, Inc.
About BankNewport
Founded in 1819 and headquartered in Newport, BankNewport offers a full suite of loan and deposit products and services for families and businesses throughout Rhode Island. In addition, OceanPoint Insurance Agency, Inc., a subsidiary of BankNewport, offers a broad range of property casualty insurance products and a full array of financial services. With 15 banking offices and $1.5 billion in assets, BankNewport is one of the oldest community banks in the United States and, as a mutual organization, is committed to the financial success of its customers, employees and communities.
About United Way of Rhode Island
United Way of Rhode Island is changing lives and strengthening our communities by investing in proven programs that work over the short-term, and are scalable over the long-term. For more information, visit www.LIVEUNITEDri.org