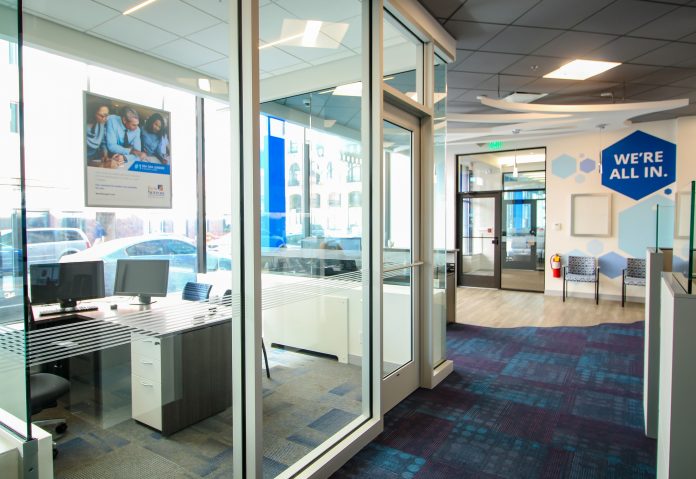 BankNewport recently opened a new Lending Center at 55 Dorrance Street in Providence, directly adjacent to its branch located at the corner of Dorrance and Westminster Streets. The opening of the Lending Center is a continuation of the Bank's expansion into the Providence market.
The new Lending Center provides customers and prospective customers with expedient borrowing opportunities on a full range of commercial lending and business banking, in addition to residential mortgage products, including Equity Builder, Fannie Mae's Home Ready program, Rhode Island Housing first time homeowner programs, and FHA.
A well-versed team of community lending, business banking and commercial lending officers, as well as a residential mortgage loan processor, are based at the new Lending Center. Borrowers can meet with a lending officer and complete the application on site. Borrowers may also receive an initial loan pre-approval while meeting with a lending officer. Appointments can be scheduled with a bilingual residential mortgage loan officer and a business development officer.
To further enhance the customer experience, lending officers along with highly trained universal bankers at the adjacent BankNewport branch can assist customers with all traditional banking transactions, as well as consumer loan originations, residential mortgages, commercial lending, business banking referrals, cash management, merchant services, online banking and mobile banking services.
For more information about BankNewport's Dorrance Street Lending Center contact (401) 845-8674 or visit www.banknewport.com.
About BankNewport
Founded in 1819 and headquartered in Newport, Rhode Island, BankNewport offers a full suite of loan and deposit products and services for families and businesses throughout Rhode Island. With 17 banking offices and $1.6 billion in assets, BankNewport is one of the oldest community banks in the United States and, as a mutual organization, is committed to the financial success of its customers, employees and communities.