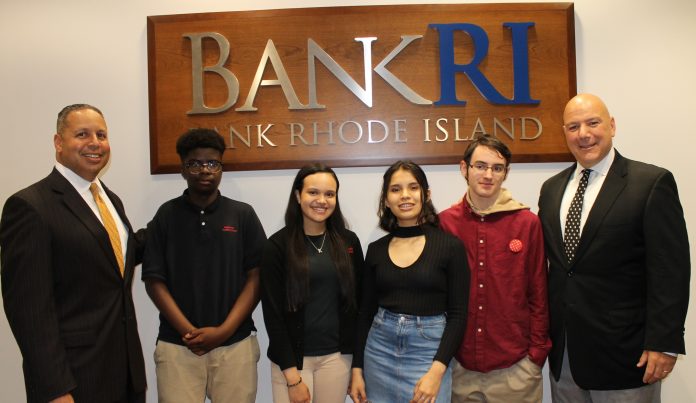 PROVIDENCE – At the close of the 2017-18 school year, four Highlander Charter School students shared in a total of $2,000 worth of Shark Tank Scholarships from Bank Rhode Island to advance their business ideas and explore entrepreneurship.
A new addition to Highlander's Aspiring Business Owners and Entrepreneurs pilot program, the competition, styled after the "Shark Tank" reality TV show, saw eight students present business ideas to a panel of volunteer judges and was funded by a $2,500 grant from BankRI.
The scholarship winners, each of whom are rising seniors at the Providence-based charter school, and their projects:
Nicole Benitez, an aspiring photographer, was awarded funds to purchase Adobe Photoshop software to learn to edit digital images.
Kaelyn Rodriguez, already a business owner, designs sneakers and baseball hats. Her scholarship will be used to purchase equipment and supplies that will allow her to grow and scale her business.
Jeremy Anim, digital banner designer, produces online graphics for various YouTube channels. He plans to use the scholarship funds to purchase components to build a new computer with advanced capabilities that will help him expand his services.
Nicholas Middlemiss, a gamer, is currently working to produce a 3-D model that will develop code and translate his work into a video game.
Shark Tank participants wrote essays outlining their entrepreneurial ideas, how they planned to use scholarship funds if selected and how their business plans would further their career goals.
Once a student's idea was accepted, they were invited to present their proposal to a panel of volunteer judges, which included Manny Barrows, senior vice president, team leader, BankRI; Will Tsonos, senior vice president, director of commercial banking, BankRI; Dan Shedd, CEO, Taylor Box Co.; Jock Hayes, director of audience and engagement for East Bay Newspapers; Rose Mary Grant, head of school, Highlander Charter School; and Frank Picciotti, human resources director and business manager, Highlander Charter School.
The program is held in partnership with Shedd, whose Warren-based company has welcomed 15 to 20 students the past two years to introduce them to and teach them about the various aspects of running a business.
Emily Gowdey-Backus is a staff writer for PBN. You can follow her on Twitter @FlashGowdey or contact her via email, gowdey-backus@pbn.com.