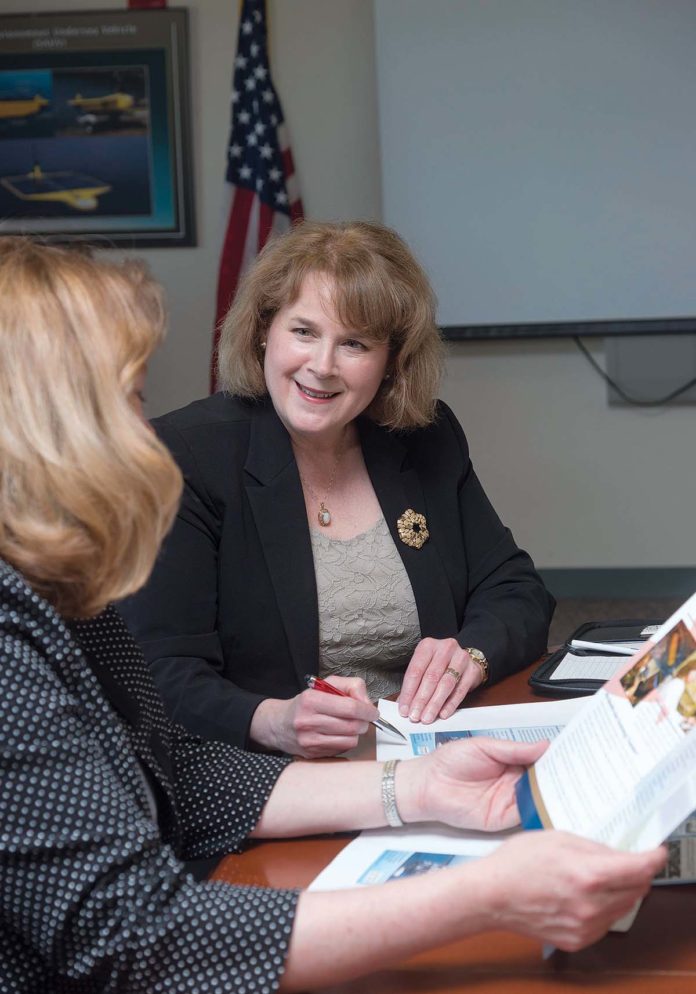 What's the connection between finding undersea mines and software that detects breast cancer?
Theresa A. Baus could tell you. Both processes rely on a mathematical method developed at the Naval Undersea Warfare Center, Division Newport.
Baus understands the connection between these two seemingly disparate processes because she heads the Technology Partnerships Office at NUWC, the Navy's research, development and testing center for submarines and other systems. The Technology Partnerships Office works to bring Navy-developed technology to the private sector (and vice versa), and fosters collaboration between NUWC and other entities, such as universities, cities, small businesses and industry. More broadly, you could describe the office's mission as "technology transfer."
It's a field to which Baus has dedicated her life.
"We have within the government a mandate to take the products of federally funded research and development and get it out to the private sector," Baus said. "We also support [NUWC's] vision by using agreements to get work done that fosters the Navy's capability and helps us do our mission for undersea technology."
Baus joined NUWC 26 years ago, modeling sound in undersea environments. In 1999, she became NUWC's technology-transfer manager, single-handedly establishing relationships with the private sector and others.
But she knew that NUWC was capable of so much more when it came to technology transfer. So in 2006, Baus became the head of the organization's first Technology Partnerships Office. Three staff members now work under her to bring Navy-developed technologies out into the community.
"[Theresa] Baus is a dynamic, involved leader who takes personal responsibility for the performance of her TPO staff," said Capt. Michael Coughlin, commanding officer at NUWC, Division Newport. "[She] stood up the office in 2006 … developed its mission and vision, and has continued to evolve its responsibilities to better serve the command and our partners."
Part of that evolution meant changing the perception of NUWC both internally and externally.
NUWC has a $1 billion operating budget and 5,400 employees and contractors. For a long time, it was merely seen as one of the state's largest employers.
"We weren't being recognized for the work we did – we're a world-recognized leader for undersea technology," Baus said.
But that perception is changing thanks to a major Partnership Intermediary Agreement signed between NUWC Division Newport and the city last year.
The city and some private companies are working to establish an "innovation hub" focused on climate change, resilience and ocean and marine technologies. The goal is for Newport to become a test bed and solutions center to the threats of climate change, including sea-level rise.
Since the initial PIA with Newport, NUWC Division Newport has signed two others: with the Southeastern New England Defense Industry Alliance and the University of Rhode Island's Business Engagement Center.
But PIAs are hardly the only way that NUWC Division Newport collaborates.
Under Baus' leadership, the Technology Partnerships Office works with businesses and other entities through patent-license agreements, Cooperative Research and Development Agreements, Education Partnership Agreements and more. In the past three years alone, NUWC Division Newport has signed more than 250 agreements, outperforming other Naval Sea Systems Command divisions.
The ultimate win, Baus said, is when Navy-developed technologies come full circle.
That happened recently with a ship sensor designed by NUWC. Through a CRADA and patent-license agreement, NUWC Division Newport licensed the sensor technology to a Montana research and development company, Adelos, which adapted it into a ground-based system that detects footsteps, planes and other physical intrusions. The company now works with the Air Force to supply the sensor systems to intercontinental ballistic missile sites.
"We're not out to make money," Baus said. "What we really want is to get our technology out there. So when it goes out, gets developed in the commercial marketplace and then we buy it back, that's a big win."