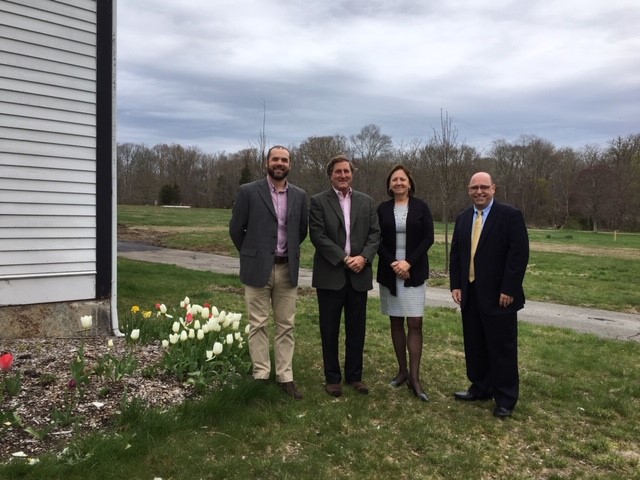 WESTPORT – BayCoast Bank has pledged $100,000 over a three-year period to the Westport Land Conservation Trust for the second phase of the former St. Vincent de Paul Camp project in Westport.
It's the second pledge of $100,000 made by the bank for a total contribution of $200,000 to help acquire and maintain the 82-acre property.
The Meadow Entrance of the property will be named for BayCoast Bank at the trust's public opening on June 15. This land includes 20 acres of open space, 62 acres of forest and natural habitat, and more than 2 miles of trails.
In July 2016, the Westport Land Conservation Trust, working with the town, secured an agreement to acquire the camp from the Catholic Diocese of Fall River. In August 2017, BayCoast Bank pledged to contribute $100,000 over three years in support of Phase I acquisition and protection of the property.
The trust acquired and protected the property in February 2018.
With its pledge for Phase II, the bank has committed another $100,000 to be paid over three years, beginning in 2021. The second phase of the project seeks to secure the future of the landscape, provide resources for the trust to transform it and then to maintain and steward it well into the future.
Westport Land Conservation Trust "is honored to continue our partnership with BayCoast Bank," said Ross Moran, the trust executive director. "This recent grant to Phase II of the St. Vincent de Paul project is a major boost towards the creation of Westport's first community park and will help us craft a unique destination for people to connect with nature. It is just one example of BayCoast's long-standing investment in Westport and we are thrilled to have its support."
The goal of the project, in addition to protecting one of Westport's scenic landmark properties, is to create an open space welcoming individuals, families and groups, protecting significant natural resources and connecting people to nature. The trust is in the final stages of raising funds to create this community park, with only $175,000 left to raise of the $3 million project.
"It is a privilege to help fund this important project, one that will benefit the entire region for many generations," Nicholas Christ, president and CEO of BayCoast Bank, said.