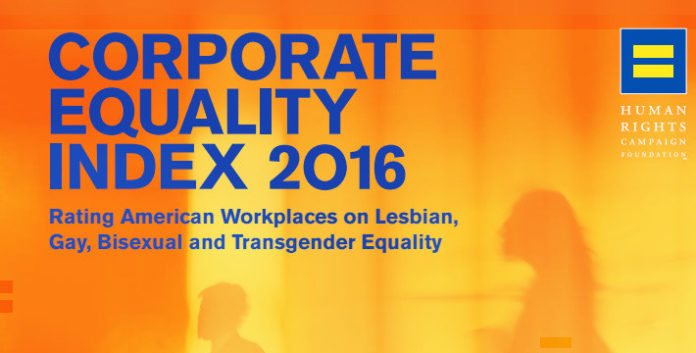 PROVIDENCE – Two Rhode Island companies received perfect scores of 100 percent on the 2016 Corporate Equality Index: Blue Cross & Blue Shield of Rhode Island and CVS Health Corp.
The index, compiled by the Human Rights Campaign Foundation, which bills itself as the nation's largest lesbian, gay, bisexual and transgender civil rights organization, assesses LGBT inclusion in major companies and law firms across the nation.
Four companies were ranked in Rhode Island. In addition to BCBSRI and CVS, Hasbro Inc. received a score of 90 percent and Textron Inc., a score of 55 percent, according to the report.
Companies that received perfect scores earned the "Best Places to Work for LGBT Equality" distinction.
This year, a record 407 businesses nationwide received perfect scores, according to the Human Rights Campaign Foundation, which noted that the number was achieved despite "demanding new criteria" that required companies with overseas operations extend non-discrimination protections to their LGBT workers worldwide. Last year, 366 firms received perfect scores.
A total of 851 companies nationwide were officially rated, an increase from 781 last year, according to the report.
"Blue Cross continues to create an environment that is rich with multiple perspectives and ideas that enable us to relate to the diverse populations we serve," Visael "Bobby" Rodriguez, vice president, human resources & chief diversity officer, BCBSRI, said in an email. "We are proud to have maintained a perfect score of 100 percent from last year and to continue to be ranked as a best place to work for LGBTQ equality."
CVS, in a press release, said it received a perfect score on the index for the second year in a row.
"We pride ourselves on embracing and celebrating the rich diversity of our colleagues, customers and suppliers," Lisa Bisaccia, executive vice president and chief human resources officer for CVS Health and executive sponsor of the company's LGBT resource group, said in a statement. "It is part of our culture to make every individual feel equally valued, respected and appreciated. These core values are the fabric of who we are as a leading health care company and make us one of the best places to work."
CVS cited several programs and initiatives that it said led to the perfect score, including a benefits package providing health insurance coverage for medically necessary health care services transgender people need, including transition-related treatment; support for 11 national Colleague Resource Groups that offer employees the opportunity to share or support a particular ethnicity, culture or perspective; the CVS Health Supplier Ethics Policy that supports the inclusion of LGBT vendors and suppliers; and financial sponsorship and participation in annual LGBT-related events nationwide.
Rockland, Mass.-based Rockland Trust Co., a commercial bank serving Eastern Massachusetts and Rhode Island, also received a perfect score of 100 percent on the 2016 Corporate Equality Index.
Said Christopher Oddleifson, president and CEO of Rockland Trust, "At Rockland Trust we believe in creating an inclusive environment that respects all individuals and values their relationships with us."
Nixon Peabody LLP, a national law firm based in Boston with an office in Providence, also received a perfect score.
"Corporate America has long been a leader on LGBT equality, from advocating for marriage equality to expanding essential benefits to transgender employees," HRC President Chad Griffin said in a statement.
"But this year, many leading U.S. companies have broken new ground by expanding explicit non-discrimination protections to their LGBT workers around the globe. They've shown the world that LGBT equality isn't an issue that stops at our own borders, but extends internationally," he said.
While support for LGBT workers is growing in the United States and around the globe, Griffin said "too many companies still fail to guarantee basic, vital workplace protections that allow employees to bring their full selves to work."