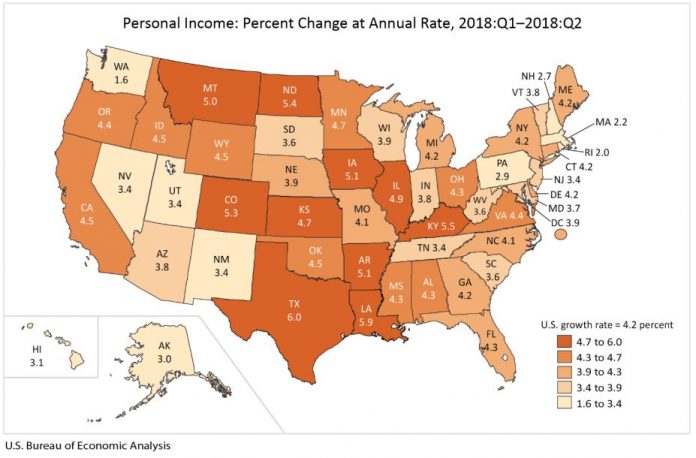 PROVIDENCE – Personal income in Rhode Island increased 4 percent year over year to a seasonal annualized total of $57.8 billion, according to the Bureau of Economic Analysis Friday.
Quarter to quarter, the state recorded a 2 percent annualized personal income growth, which the BEA ranked as No. 49 in the nation for growth rate. The quarter-to-quarter growth rate was the lowest in New England. The highest rank in the region was Connecticut at No. 22.
New England quarter-to-quarter income growth rate rankings:
Connecticut: No. 22 with 4.2 percent.
Maine: No. 25 with 4.2 percent.
Vermont: No. 33 with 3.8 percent.
New Hampshire: No. 47 with 2.7 percent.
Massachusetts: No. 48 with 2.2 percent.
Rhode Island: No. 49 with 2 percent.
Texas had the highest quarter-to-quarter personal income growth at 6 percent. Washington ranked last in the country with a 1.6 percent growth quarter to quarter.
Rhode Island Q2 breakdown:
Personal income grew 2 percent quarter to quarter, a $292 million increase.
Net earnings increased 1.5 percent quarter to quarter, a $128 million increase.
Dividends, interest and rent increased 3.2 percent quarter to quarter, an $86 million increase.
Transfer receipts increased 2.7 percent quarter to quarter, a $78 million increase.
Chris Bergenheim is the PBN web editor. Email him at Bergenheim@PBN.com.