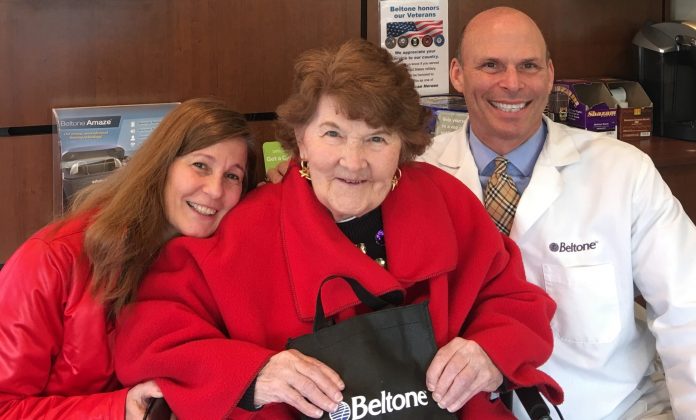 CRANSTON – Mark Zarrella, board-certified hearing instrument specialist at the Beltone Hearing Center in Cranston, applied to the Beltone Hearing Care Foundation recently to help his patient, Gloria Montecalvo, 89, of Cranston, afford hearing aids.
Zarrella applied to the Beltone Hearing Care Foundation on Montecalvo's behalf to see if he could get her approved for a grant for the devices.
The foundation, a 501(c)(3) charitable organization, donates hearing aids to those who are in need and are unable to access them. Both individuals and organizations are eligible to receive assistance from the foundation through direct nominations to Beltone or at one of its 1,500 locations across North America.
"This foundation gives us a new path to achieve this mission by helping deserving individuals and organizations in their communities enrich their quality of life," said Michael Andreozzi, CEO of Beltone New England.
A letter from Montecalvo's daughter Linda was included with the application. In it, she wrote, "I am writing on behalf of my mother, Gloria Montecalvo. She is 89 years old. She had a hearing test on Aug. 31, 2017, performed by Mark Zarrella and was told she has moderate to severe hearing loss and he gave us options on different pricing. My mom has insurance and we thought she had some coverage toward the cost of the aids, but there is no benefit. We could not afford it at this time.
"Mark called a couple of weeks later to see if our finances had changed and discussed family financing. Janet, his patient care coordinator, called in March of this year and I explained my mom has Parkinson's disease and would come in the nicer weather. In July, Janet explained the Beltone Foundation and suggested I write a letter to see if I could get my mother to be considered for hearing aids."
Zarella's application on Gloria Montecalvo's behalf paid off, and the foundation granted her the money for new hearing aids. The Beltone Hearing Center fit her with the devices on Dec. 13, at its 478 Reservoir Ave. office in Cranston.
"We are thrilled to be able to help Gloria Montecalvo, obviously a person who is truly deserving and who needed our assistance in a huge way," said Andreozzi. "We are also happy to have played an important role in changing her life for the better. That's what Beltone is all about."
Rob Borkowski is a PBN staff writer. Email him at Borkowski@PBN.com.