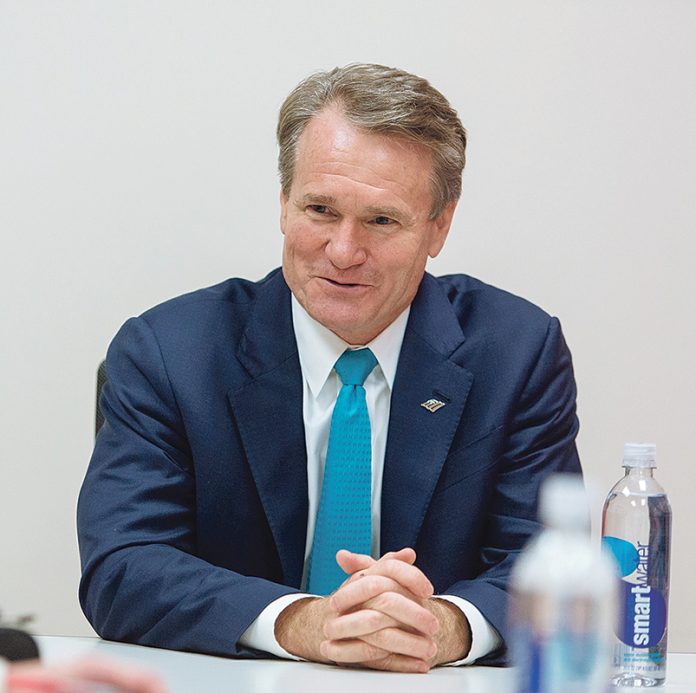 PROVIDENCE – While CEOs of the nation's biggest banks appeared before Congress last week in hopes of making a case that regulatory reforms since the 2008 financial crisis have made the financial system less risky and more resilient, Wall Street watchdog group Better Markets released a damning 39-page report on the megabanks, detailing a variety of misdeeds before, during and after the financial crisis.
Since 2000, according to the report, the nation's six biggest banks combined received $8.2 trillion in bailouts, were the target of 351 legal actions and paid out nearly $200 billion in fines and settlements.
The misdeeds "started before the 2008 crash, continued during the crash, and the number of major legal actions against these six megabanks has actually increased after the crash," Better Markets President and CEO Dennis Kelleher said in a statement.
The heads of the megabanks, however, have had a much different take.
A statement from Citigroup CEO Michael Corbat said while the regulatory steps taken since the crash don't guarantee that mistakes won't be made, "What it does mean is that we have a governance structure in place that helps us identify mistakes and misbehavior, learn from them and hold ourselves accountable for whatever actions preceded those episodes."
Meanwhile, the Independent Community Bankers of America used last week's congressional hearing on the big banks as an opportunity to tout community banks as "the megabank alternative."
"As Congress reviews the state of the nation's largest and riskiest banks a decade after the Wall Street financial crisis they caused, the Independent Community Bankers of America is reminding policymakers of the positive role community banks serve in the local communities," Rebeca Romero Rainey, the group's president and CEO, said in a statement.
In addition to Corbat, JPMorgan Chase & Co.'s Jamie Dimon and Goldman Sachs Group's David Solomon appeared last week before the House Financial Services Committee. Morgan Stanley's James Gorman, Bank of America Corp.'s Brian Moynihan, State Street's Ronald O'Hanley, and Bank of New York Mellon's Charles Scharf also attended.
Lawmakers grilled the chief executives on a variety of subjects. When the Finance Services Committee last held such a hearing, the country was mired in the Great Recession and the big banks were defending themselves after having taken billions in taxpayer bailouts. Since then, the banking industry has largely repaid taxpayers and posted record profits.
The only major bank CEO missing from last week's hearing was Wells Fargo & Co.'s Timothy Sloan, who stepped down since being blistered with criticism during a separate hearing last month. Scrutiny in Congress of the big banks has increased since the Democratic takeover of the House this year.
Scott Blake is a PBN staff writer. Email him at Blake@PBN.com.