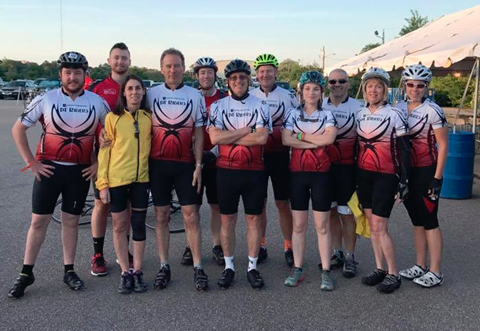 PROVIDENCE – A team of 12 cyclists made up of DiPrete Engineering employees and friends participated in the National Multiple Sclerosis Society's annual Bike MS: Ride the Rhode event earlier this year and raised more than $16,000 for ongoing research to find a cure for the disease.
"Bike MS: Ride the Rhode is a great event and something we look forward to every summer," said Dennis DiPrete, principal of DiPrete Engineering, in a statement released by the company in October. "Each year, more new faces want to join our team, and we encourage them to do so. Over the years our employees have volunteered a great deal of their time not only for the bike tour, but for other fundraisers that support the National Multiple Sclerosis Society."
Since 2005, DiPrete Engineering has raised over $255,000 for the National Multiple Sclerosis Society through the Bike MS event, golf tournaments and wine tastings.
The June fundraiser marked the 12th year DiPrete Engineering fielded a team and was involved in the ride, the route for which began in Newport and finished at the University of Rhode Island in South Kingstown.
Emily Gowdey-Backus is a staff writer for PBN. You can follow her on Twitter @FlashGowdey or contact her via email, gowdey-backus@pbn.com.