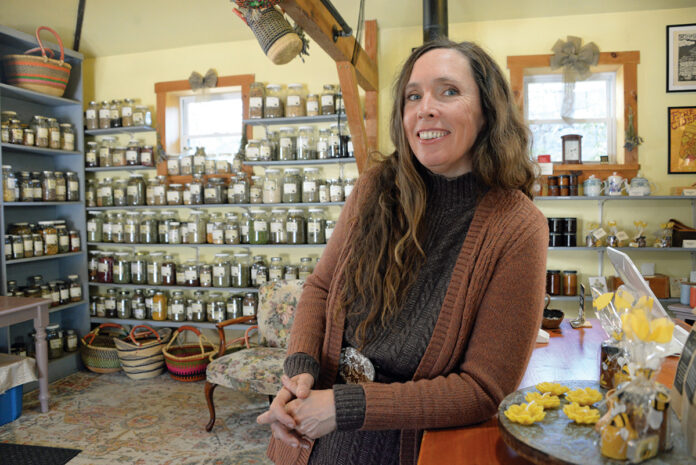 PBN 2023 Business Women Awards
ACHIEVEMENT HONOREE: Mary Blue | Farmacy Herbs LLC owner and founder
---
HERBALIST AND COMMUNITY educator Mary Blue, owner and founder of Farmacy Herbs LLC, was barely out of high school when she realized she had a way with plants.
The Rhode Island native and Classical High School graduate spent some time at landscaping jobs but felt like she'd really found her way once she started working and volunteering at the now-closed Indigo Herbals on Wickenden Street. Blue trained with the shop's owner, Danielle Cavalacci, for about five years, then moved on to work at Seven Arrows Farm in Attleboro.
In 2006, while she was still at the farm, Blue began selling her own herbal products and launched her Herbal Foundations program, a six-month series of classes. In 2008 in Providence, Blue opened the Farmacy Herbs shop on the lower level of the building she was living in.
Customers can find organic dried herbs, at least 40 tea variations and more than 100 types of tinctures, salves and extracts made by Blue and her staff of six.
"I really find power in herbs to prevent diseases and support health. It's something that people can do that's proactive, and once people are healthier, there's not as much pressure on the health care system to treat diseases," Blue said. "The other thing I find really empowering is to kind of take my health into my own hands. It's empowering to know what plant to use to help my own health."
Students in her Herbal Foundations classes met there, and the business began to grow. Blue estimates that more than 1,000 students have completed the classes that she's offered since 2006. Over the past three years, demand for her online classes has ballooned by 500%.
She's embracing that rapid growth in enrollment in her herbology classes.
"Another of our main goals is to educate our community on using herbs to support health. That's one of the big reasons we're not pushing to grow our products. We're looking to grow our education because that's key for people to empower themselves," Blue said.
She's planning to expand class content and accept more students into the Herbal Foundations online program as more people inquire about learning herbalism terminology and the secrets to making herb-derived tinctures, baths, syrups and teas.
Blue, 47, is well positioned to accommodate higher demand, as she plans to expand her online offerings, which include private consultations for people interested in personalized herbal remedies.

Want to share this story? Click Here to purchase a link that allows anyone to read it on any device whether or not they are a subscriber.