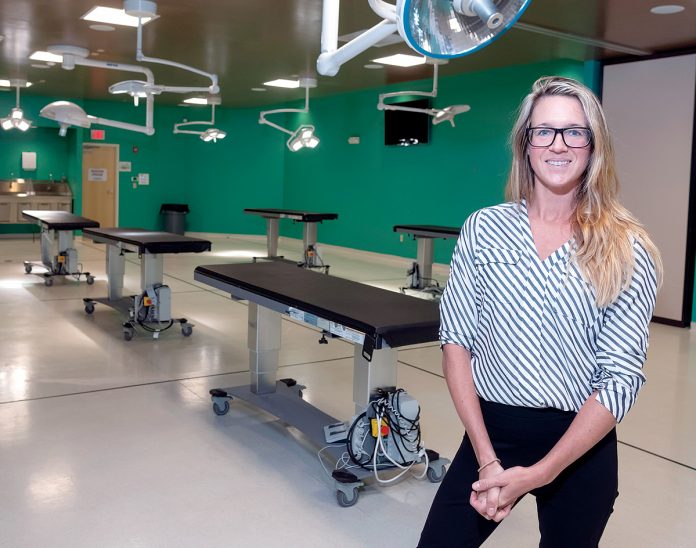 Donating one's body to science can be arranged through learning institutions for some, but is much more accessible through private, for-profit "body brokers," each with their own pros and cons.
Rhode Islanders entrusting their remains to the training and education of medical professionals can do so through Brown University's nonprofit Anatomical Gift Program or through a for-profit service, the closest of which is national body broker MedCure, which has a location in Cumberland.
The national median cost of a funeral with viewing and burial in 2017 was $7,360, according to the National Funeral Directors Association, an expense many struggling families can't afford. Dale Ritter, senior lecturer in biology and director of anatomy at Brown, said the minimum service with cremation is about $3,000.
Both Brown and MedCure shoulder the cost of cremation in return for a full-body donation, but donation processes differ on how a person's body is used and where it may be sent.
Brandi Schmitt, director of anatomical services at the University of California and supervisor of its Anatomical Donation Program, said applications to medical science include anatomical study and surgical skills training.
Each year, about 1,000 Californians donate their bodies, or a loved one's body, to the program, supporting the education of health professionals and to further scientific research.
Ritter said about 55 each year are accepted at Brown.
'We can facilitate multiple projects from one person.'
RACHEL MULLIGAN, MedCure director of lab operations
Donated bodies are also used for gross anatomy instruction and neurological, anatomical and physiological research, Schmitt said. Some parts of a donated body are used for surgical procedural training, health education, forensic research and training, mortuary science education, and the development and testing of new medical devices.
When the institution's studies with a donated body are finished, she said, the university cremates the full body and buries the ashes at sea.
Some institutions, such as Brown, return the cremated remains to the donor's family.
Schmitt said the advantage to donating one's body to a nonprofit institution is the security of knowing your body will be used to advance peer-reviewed medical science and learning. Research on cadavers is carefully reviewed for its potential contribution to science and medical knowledge, whereas guidelines governing donations to private, for-profit companies are not always so stringent.
Rachel Mulligan, MedCure's director of lab operations, said the company provides access to more people who want to donate their bodies for research who would otherwise be turned away by learning institutions, and that the company provides study subjects in a variety that's vital to research. For cardiac studies, for instance, she said, a researcher might need to work with an aortic valve that's a specific size. Such fine-tuned demands can't be met with synthetic cadavers, which are mass-produced in limited sizes and shapes.
MedCure screens prospective body donors' medical history to rule out conditions that would disqualify them as candidates, such as cancer, or HIV and hepatitis C infections. Upon the donor's death, they're transported directly to a MedCure location and the donor's record is reviewed for accuracy before the company decides which research projects a person will be donated to.
"We can facilitate multiple projects from one person," Mulligan said.
Both Mulligan and Schmitt said nonprofit and for-profit body donations can be abused.
Attorney Brian Katabeck represents about 150 families in individual cases against for-profit body brokers, including several concerning Biological Resource Center Inc. in Phoenix. Donors' families he represents were told donors' bodies would be used for specific research purposes. Instead, the bodies were used in Department of Defense experiments on the effects of explosions on people; by companies as crash test dummies; and for police-dog training.
Katabeck said whole bodies are typically sold for about $5,000, but they're worth twice as much separated into parts. He said that likely yields high profits since the people hired by disreputable companies to process cadavers were not trained medical professionals. In some cases, bodies were cut up using chain saws, he said.
Mulligan acknowledged the danger of abuse but pointed out MedCure is accredited by the American Association of Tissue Banks, which should reassure donors. The AATB had never accredited the Biological Resource Center, the organization reported.
MedCure's Portsmouth, Ore., facility was the subject of a search warrant Nov. 1, 2017, according to Beth Ann Steele in the FBI's Portland Public Affairs office. Steele said the warrant remains sealed, and that she could not comment further on the case.
"Because the FBI investigation is ongoing, we are unable to speak in detail on this topic," Mulligan said. "We believe the inquiry is likely tied to recent stories about the 'bad actors' in the tissue industry – those who practice unethically and do not follow the rules or comply with current tissue-banking regulations and standards. MedCure is an accredited and regulated institution. We voluntarily adhere to best-in-class industry standards for safety, ethics and transparency."
Rob Borkowski is a PBN staff writer. Email him at Borkowski@PBN.com.