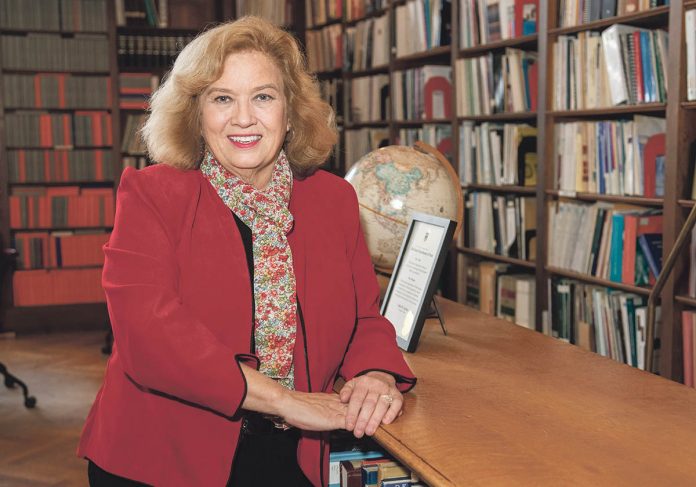 Margaret Brooks is passionate about empowering the state's vulnerable populations via financial literacy, a subject she knows intimately.
The fourth of nine children growing up in Warwick, her family was very poor, she said, sometimes struggling to acquire food, clothing and other basic needs.
As many parents in such situations do, hers worked to somewhat shield her and her siblings from the family's financial challenges. "A lot of times parents don't want to talk to [their children] about money," she said. "They think children will grow up worrying."
But Brooks, president of the Rhode Island Jump$tart Coalition, was always interested in the subject of economics.
Eventually, she dropped out of high school, as did some of her siblings. But she went back and got her GED. And she didn't stop there.
As a single mother of two, she enrolled at Community College of Rhode Island, transferring to Brown University in her junior year. Brooks earned bachelor's, master's and doctorate degrees – all from Brown, all in economics, and all as a magna-cum laude student.
"Not having a financial safety net made it challenging," said Brooks. She did receive scholarships, took out some loans and worked as a teaching assistant, learning all about those processes as she went.
Brooks now lives in Warwick with her spouse, Robert Brooks. Between them, they have four grown children. She has found ways to use her interests and strengths for the overall economic good.
Brooks enjoys teaching economics, especially to younger people. She serves in three leadership roles with groups that spread the word on healthy economic and financial management.
In addition to the nonprofit Jump$tart, where she began as a volunteer, Brooks also heads up the Rhode Island Council for Economic Education — part of a national effort advocating for more financial education for K-12 students. She is also the director of both the Center for Economic Education at Bridgewater State University in Bridgewater, Mass., and of that school's Office of Financial Literacy Initiatives.
Building financial literacy statewide is a comprehensive goal that calls for a broad approach.
Coalitions are a powerful tool in teaching others to empower themselves with information on budgeting, investing, saving and resources, said Brooks, involving educators, librarians, social-service providers, government and industry leaders.
To that end, Jump$tart and the economic education council just wrapped up the fifth-annual Financial Capability Conference at Rhode Island College in Providence. The free event is a valuable, yearly opportunity to get all sides to the table, learning, mingling and communicating, said Brooks.
A student panel allowed members to share their perspective on what is important to them in regard to financial literacy, said Brooks.
A major career milestone for Brooks came four years ago, when she helped lift financial literacy's place in the Rhode Island education system.
She was instrumental in the state's 2014 adoption of educational standards for financial literacy. Only three other states had done so at that time. The standards cover college- and career-readiness skills of earning income, buying goods and services, using credit, saving, financial investing, and protecting and insuring.
But Brooks gives credit to students themselves.
"Over a period of eight months, a group of students from East Greenwich High School called RealEdRI conducted student surveys and used social media to advocate for the adoption of financial literacy standards," she said.
Brooks says the skills the standards represent should be introduced gradually, starting in lower elementary school grades, with an age-appropriate approach. She believes in giving children allowances and encouraging entrepreneurial ventures such as lemonade stands. That way, students will hopefully be prepared for one of the biggest financial decisions they need to make: college.
"They have to decide [on] one, comparing the different options and look not just at the sticker price but add in financial aid, scholarships … it's a complicated decision," she said. "They have to decide if they are living on or off campus and the associated decisions, such as buying a car, and then how they pay for insurance."
Veterans are another unique group with special financial circumstances, Brooks said, with many relocations and a transition back into the workforce. Making a collective money decision, such as with roommates or as a family, is another area of personal-finance management education.
"We all need help in different ways," she said.

Want to share this story? Click Here to purchase a link that allows anyone to read it on any device whether or not they are a subscriber.