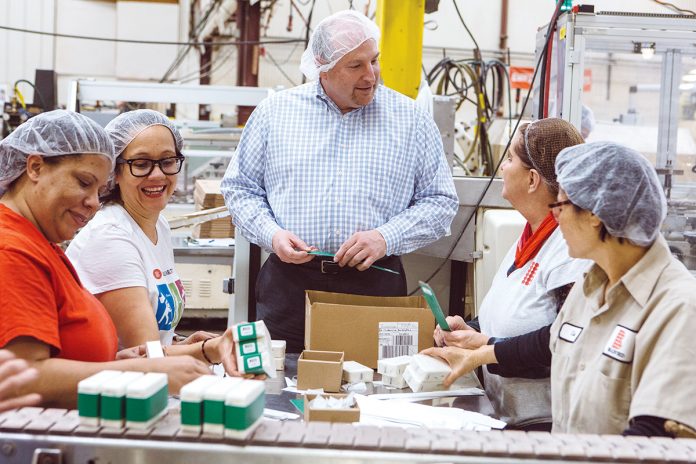 The Original Bradford Soap Works Inc. | Overall Excellence | 150-499 Employees
The Original Bradford Soap Works Inc., in West Warwick, has revolutionized what soap means to the average consumer.
The company created the first natural bar soap for Tom's of Maine 30 years ago when the toothpaste manufacturer was looking to expand, said Bradford President and CEO Stuart R. Benton. It developed the first dermatological soap for Galderma/Cetaphil, and is the leading manufacturer of solid cleansing products, including bath fizzes, cleansing sticks and shower pouf sponges, as well as specialty scented and all-natural bar soaps.
"Bradford co-developed many of the leading personal-care brands that are available on the market today," Benton said. "We now manufacture 44 percent of the specialty bar soaps in the U.S."
Bradford Soap Works was founded in 1876 by two men from Bradford, England, who came to America to sell flake soap and scouring wool for textile mills. By the 1900s, the company moved into other industrial soap applications. By the 1960s, the focus turned to personal-care cleaning products.
The organization now consists of a 200,000-square-foot facility in West Warwick, employing 350 workers, a plant in Indiana that employs another 50 people, and two other facilities, in California and Mexicali, Mexico.
The company, Benton said, has survived 142 years by continuing to evolve and innovate through market research and product development, and understanding its customers. "We've always been able to pivot, change paths to create something new," he said.
Its unique manufacturing process is a key reason behind this success. Other soap manufacturers buy their base soap product, termed "noodles" due to their pasta shape, from Malaysia or Indonesia. Bradford Soap does things differently, boiling soap oils and fats into its own base soap in relatively small, 40,000-pound kettles. This allows the company to create custom formulations that other manufacturers cannot. Bradford Soap can add specialty ingredients to the soap that a company using a different process can't include because the other company's noodles are already formed.
Part two of this process, Benton said, is pressing the noodles into the shape of soap. Between 2-5 percent of specialty ingredients can be added to the soap at that point, he said.
As a result of this unique method, Bradford Soap has more than 50 live soap-base formulations it uses for its clients' custom orders. "Bradford creates custom formulations and manufactures bar soaps and solid cleansing for the 'Who's Who' of the personal-care industry," Benton said.
The top 10 list of Bradford's customers includes Amway, Colgate Palmolive. L'Oreal, Estee Lauder, Johnson & Johnson, Walmart and Unilever. All distribute what the company manufactures for them worldwide.
Bradford Soap developed Amway's first personal-care product, which is now sold in more than 80 countries. For Unilever, the company developed a synthetic cleansing bar to be mailed as samples to potential customers.
In a related accomplishment, Bradford Soap created an ingredient that is now used worldwide in synthetic cleansing. Yet it was the first U.S. soap manufacturer to receive, in 2001, organic certification. It developed the world's first bar soap made from 100 percent algal oil, and it was first to use Rainforest Alliance-certified palm oil in soaps.
For Shick, the company developed the first soap strips to be applied to razors. For Bath & Body Works, it developed soaps that double as aromatherapy.
"We are more than a manufacturing company," Benton said proudly, "in the way we understand what consumers want, in looking for ways to create innovative ideas and ­products."